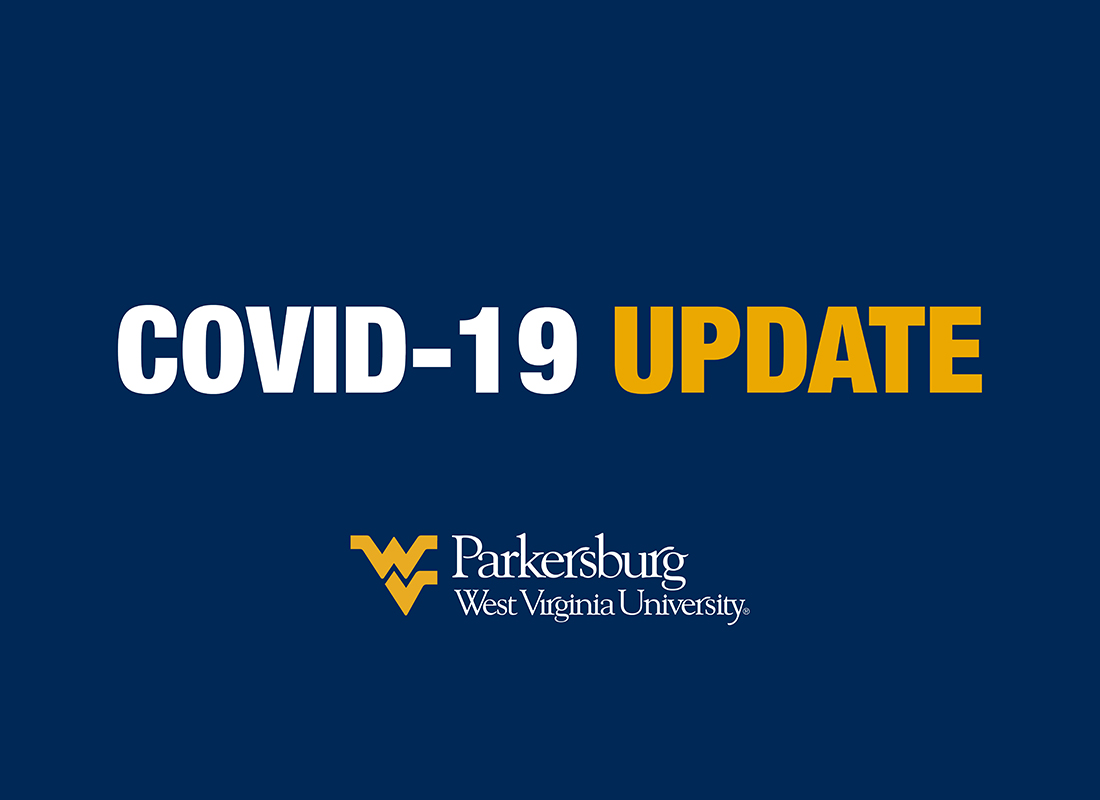 Good afternoon, Riverhawks,
This message is intended to provide a COVID-19 update to the WVU Parkersburg family.
Any confirmed cases at WVUP have so far been contained to students learning remotely, and we can confirm no cases of exposed students or employees testing positive and spreading to the community at this time. While we have had several instances reported to us of students and employees either testing positive or being exposed to confirmed and possible COVID-19 carriers, our commitment to technology-enhanced online instruction, continuing to have many employees working remotely, mask-wearing, social distancing, and taking other precautions has so far prevented any known outbreak of COVID-19 on our campuses.
While we are deeply concerned about anyone who might be or become sick and want to offer support in every way possible, the current absence of a campus-based outbreak is good news at a time when many colleges in West Virginia and nationwide are experiencing significant outbreaks. We must continue to be vigilant in our protective measures and remain hopeful that they will protect us from a campus community outbreak. Should confirmed cases of COVID-19 occur among our campus-based, face-to-face students or employees, we will be transparent with that information to the community. To the best of our ability and while protecting confidentiality to the degree possible, those who might have been exposed would be notified. I repeat that this has not yet occurred, but would be our protocol should such a scenario occur.
Our protocol has been and will continue to be that we report to local health authorities any confirmed case or confirmed exposure to a carrier that occurs within the WVUP community. The responsibility of any WVUP community member, employee, or student is to report any confirmed case at WVUP or any confirmed or possible exposure to a carrier by any employee or student, particularly those working and learning face-fo-face in our facilities, to Brady Whipkey, Chief of Staff to the President. We will then enact the protocol described herein, and any affected parties will receive any needed instructions from the Office of the President.
Local health authorities then take over contact tracing, and we follow whatever guidelines we are given in each case which might include, but would not be limited to, required isolation from facilities for a prescribed period. So far, local health officials have been following up closely on first-degree exposures (someone who was directly exposed to a known carrier), but have not been following up closely on second-degree exposures (someone who was exposed to a person who was exposed to a known carrier). The latter scenario has been the most common for WVUP, and we have received no guidance concerning any additional follow-up or precautionary measures related to these reports. Please keep in mind, even as we do our best to protect our campus community, those who might become ill or who might be exposed to a sick person still have a right to expect privacy and confidentiality to the highest degree possible.
I learned yesterday that all colleges in West VIrginia will be required by state authorities, beginning as early as next week, to participate in randomized surveillance testing. Keep in mind that this is not a WVUP-generated requirement, but it is a state requirement with which our college and all others will be required to comply. I will update you as soon as more information is available.
The details of this initiative are still unfolding, and I will share the details with the community as I learn more. For now, I know that every college will be required to collect saliva-based COVID-19 test kits from a random sample of 10 percent of the aggregate of students, faculty, and staff who are engaged in campus-based activities, either face-to-face work or face-to-face learning. Any employee or student whose entire current plan of study or work assignment is remote from campus will not be required to participate. It is unclear at this time how quickly this state requirement will take effect, and we are still receiving updated information and formulating our plan of implementation. WVU and Marshall are already engaged in this process, and now the remaining colleges will be required to participate. While I understand that some members of the community will have concern about our participation and while I validate those concerns, we will endeavor to follow state mandates and will hope that the random surveillance testing will help to promote the safety of our community.
As always, I am eager to receive any feedback or suggestions from any member of our community, and I will answer any questions that you might have to the degree that I have answers for them. This is still uncharted territory for us all, and I appreciate your willingness to navigate it together. As always, the health and safety of those who learn and work here is my primary concern.
Best regards,
Chris