Parkersburg, W.Va. (Nov. 1, 2021) – Shine bright like a diamond. To celebrate West Virginia University at Parkersburg's diamond anniversary, it is partnering with Wingrove Jewelers to give away a ring valued at $10,000.
The ring features three distinct diamonds framed by other diamond clusters. The total diamond weight of the ring is two and a half carats.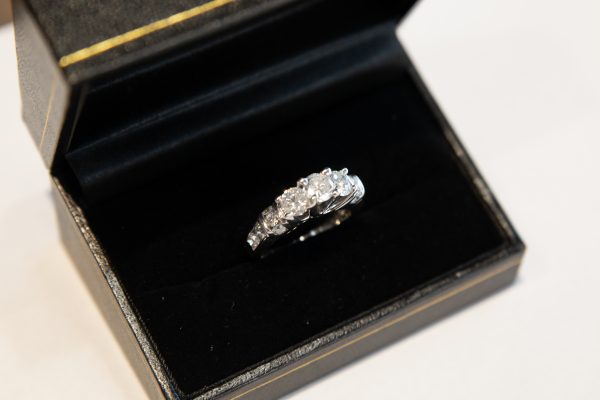 From now until Feb. 10, 2022, the college will sell raffle tickets for $100 a piece. Because WVU Parkersburg's mission is to provide accessible, life-changing opportunities, tickets purchased by community donors will sponsor student entries to the drawing.
All raffle sales will benefit the WVU at Parkersburg Foundation's student activities and student scholarship funds. The giveaway winner will be announced on Feb. 14.
"As we considered how to celebrate the 60th anniversary, the solution was simple: share with our students," said WVU Parkersburg Chief Operating Officer Dr. Torie Jackson. "Community members who choose to give by purchasing tickets will actually get to provide for students twice – once for the opportunity to be in the drawing and a second time by having the ticket sales go into an account for student activities and scholarships."
Jackson, who also serves as the Foundation CEO and President, knows students often need funding to pay for college classes and participate in organized college activities. It is only through generous donors that the Foundation is able to meet the needs of students.
The ring donation was made possible by the 60th Anniversary Committee co-chairs Kiki Angelos, David Creel, Annette Fehrenbacher and Terry Hardman.
"As a great supporter of WVU Parkersburg, I am very excited to celebrate the college's 60th birthday and our partnership with Wingrove Jewelers," Angelos said. "With this ring, I hope to raise a lot of funds to benefit all of our local students."
"We are so appreciative of the efforts of these community leaders in helping us plan more than one style of anniversary party for WVU Parkersburg," Jackson said. "While we aren't able to have that large party we had hoped for this year, they found other ways to continue the celebration."
While the diamond ring is at the centerpiece of the celebration, WVU Parkersburg has also emphasized on giving back to the community with its WVUP Gives initiative. WVUP Gives collected items, including gloves, non-perishable food, scarves and school supplies to distribute to local food and clothing pantries and schools.
To purchase a raffle ticket, please contact the WVU at Parkersburg Foundation at 304-424-8340 or foundation@wvup.edu.