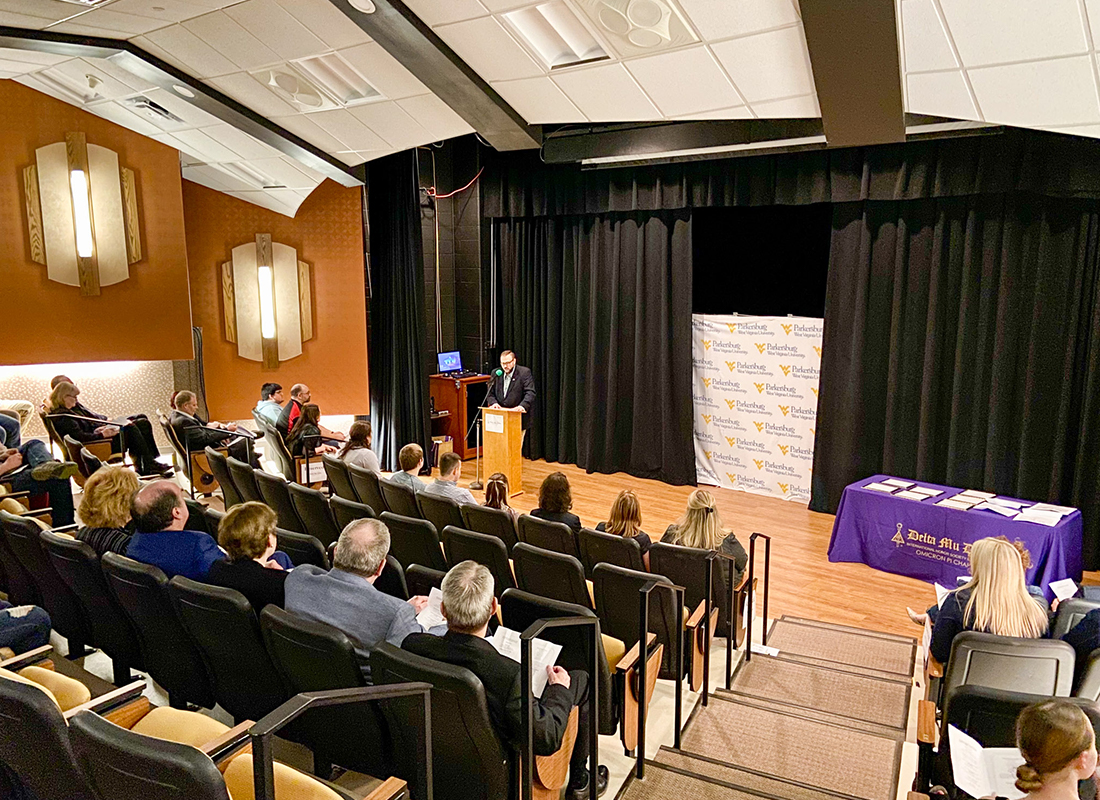 Parkersburg, W.Va. (March 3, 2023) – Several WVU Parkersburg students and honorary members were inducted into WVU Parkersburg's Omicron Pi Chapter of Delta Mu Delta at a ceremony that took place at the college on March 2.
The students inducted were Tyler Bumgarner, Jenny Dixon, Bradley Emerick, Alex Hendrickson, Adam Hoschar, Ryan Malson, Angel Spangler and Michael Yonis III.
"Serving as the faculty advisor for the chapter, I have witnessed the real-world significance of membership for our students at the beginning, and throughout their careers. Our chapter's membership includes WVU Parkersburg alumni who hold positions in the federal government, law, and own prominent local businesses," said Dr. Billy Stone, faculty advisor at WVU Parkersburg.
Also inducted as honorary members were Dr. Torie Jackson, Interim President, WVU Parkersburg; Wendy Shriver, Executive Director, Discovery World on Market; Amanda Stevens, Executive Director, Downtown PKB; Benjamin Poling, President, McDonough, Eddy, Poling & Baylous A.C.; Rachel Poling, Accountant, McDonough, Eddy, Poling & Baylous A.C.; Lauriel Rader, Administrative Associate, WVU Parkersburg; and Melody Hatfield, Instructor, WVU Parkersburg.
 "The beauty of Delta Mu Delta is that individual chapters celebrate the academic achievements of students while honoring exemplary, local professionals who are recognized as role models for the next generation of business leaders," said Stone.
WVU Parkersburg's Omicron Pi chapter of Delta Mu Delta was established in 2019. It fosters the well-being of its individual members and the business community through life-time membership.
Delta Mu Delta is an international business honor society that recognizes students with exceptional academic achievement in bachelor's degree programs in Business Administration. It was founded in Nov. 18, 1913, by the Dean of Harvard University and four professors from Yale University and New York University and currently has almost 200 chapters worldwide.
For more information about Delta Mu Delta, visit their website https://deltamudelta.org. For more information about WVU Parkersburg's chapter, Omicron Pi, contact Billy Stone at wstone1@wvup.edu.