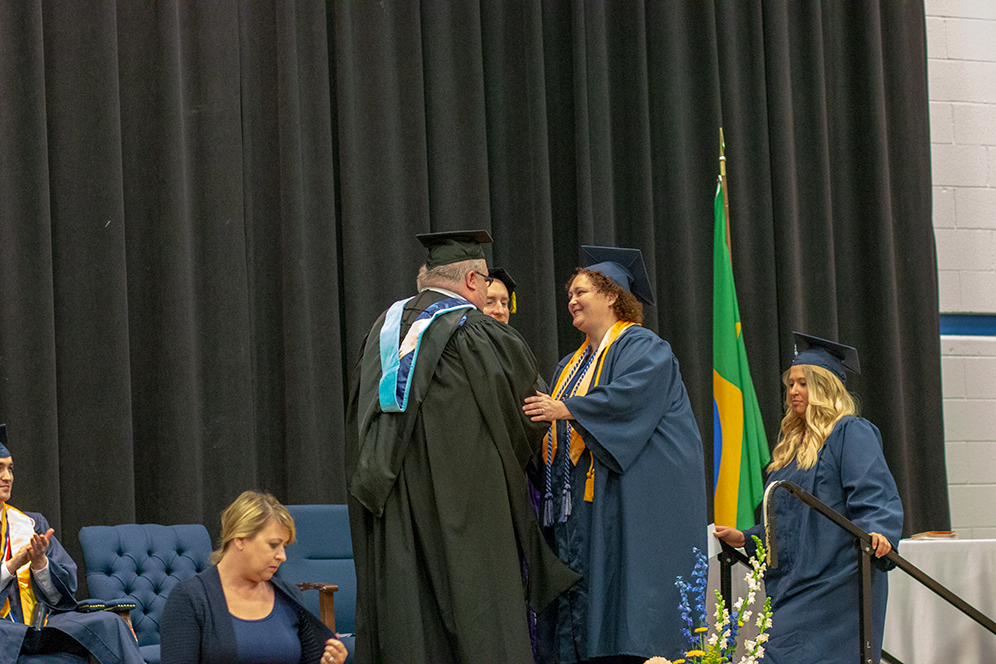 West Virginia University at Parkersburg is pleased to announce its President's and Dean's scholars for the spring 2018 semester.
---
President's Scholars
Students on the President's List maintained a 4.0 grade point average while earning 12 or more hours of college credit. The scholars include:
BERKELEY COUNTY – Martinsburg: Jacob Calo II;
CALHOUN COUNTY – Grantsville: Samantha Cason;
HAMPSHIRE COUNTY – Augusta: Julie Fontana;
HARRISON COUNTY – Bridgeport: India Carvell;
JACKSON COUNTY – Advent: Levi Butcher;
Cottageville: Brittany Sword;
Evans: Trevor Anderson; Emily Goodwin; Josh McPherson;
Given: Catherine Shouldis;
Kenna: Klaire Garnes;
LeRoy: Miranda Hall;
Millwood: Jalyn Shaver; Toby Wagoner;
Mount Alto: Patricia Ellis;
Ravenswood: Victoria Allinder; Stephen Brown; Nathanael Flesher; Logan Jarrett; Natasha Mason; Sean Matics; Aubrey Nichols; Samantha Pena; Donatas Vasaukas; Doyle Weekley;
Ripley: Tara Crooks; Casey King; Sabrina Miller; Alexis Powers; Katherine Simmons; Luke Snyder; Breana Swisher;
Sandyville: Hanna Kay; Megan Woods;
KANAWHA COUNTY – Charleston: Nefisa Mufti;
Dunbar: Katelyn Johnson;
MASON COUNTY – Leon: Brad Chattin;
Letart: Kristen Clark; Jon Grimm; Emily Hoffman
Point Plesant: Hannah Halley;
MERCER COUNTY – Princeton: Ariel Bowman;
PLEASANTS COUNTY– St Marys: Amanda Lamp; Ryan McCoy; April Redin;
PUTNAM COUNTY – Hurricane: Michelle Kuhn;
RALEIGH COUNTY – Beckley: Alexis Wise;
RITCHIE COUNTY – Cairo: Angela Stewart; Shelby Weder;
Ellenboro: Morgan Reilly;
ROANE COUNTY – Gandeeville: Britney Hersman;
Looneyville: Brandi Nagy;
Reedy: Madison Marshall;
Spencer: Ronetta Nichols; Brooke Nichols; Jennifer Obrien;
WIRT COUNTY – Creston: Katelyn Bunch;
Elizabeth: Autumn Browning; Seth Kerby; Nathaniel Kiser; Thomas Mullenix II; Kaitlyn Thompson;
LeRoy: Saundra Slone-Crum;
Palestine: Vanessa Duffield; Hunter McCoy; Melody Shearlock;
Reedy: Dustin Orr;
WOOD COUNTY – Davisville: Amy Hudson; Brittany Sirk; Andrew Welsch;
Mineral Wells: Jennifer Blosser; Brooke Buchanan; Fallyn Buffington; Joshua Davis; Amber Davis; Timothy Elson; Tiffany Johnston; Chelsy Martin; Kenneth Mason; Regina Paugh; Miranda Reed; Austin Richer; Danielle Russell;
Parkersburg: Samuel Abels; Tammy Barnhouse; David Barton; Morgan Bonnett; Traci Bowen; Aaron Burrows; Kristen Casto; Jessica Fields; Breanna Fouty; Whitney Golden; Kristelle Gumaru; Anthony Harber; Natalie Haught; Michael Howell; Joshua Johnson; Richard Jones; Donald King; Paige Leasure; Cynthia Leisure Melrose; Kimberly Lipscomb; Megan Marchland; Zoe Merrill; Peyton Neely; Melissa Nestor; Samantha Oglesby; Emmanuella Onyekwere-Eke; Emily Perdue; Damien Pfalzgraf; Nachelle Pidcock; Victoria Poellot-Tauber; Tashia Powell; Lindsay Proffitt; Thomas Rafferty; Jessica Retherford; Kaitlin Ritchie; Melissa Shutts; Alexis Smith; Hussein Sow; Douglas Summers; Kristen Suszek; Dylan Taylor; Hailey Triplett; Bruno Ugim-Adie; Sabra Victory; Jeffrey Walls; Benjamin Wells; Walter Westfall; Daniel Wheeler; Brandi Whipkey; Joshua Whitacre; Amy Wood;
Rockport: Caleb Greathouse;
Vienna: Jennifer Broffman; Paige Burner; Brady Carson; Timothy Daniels; Hannah Harvey; Breanna Higgins; John Kavanagh; Elizabeth Waters; Anthony White; Alexandra Wigal;
Walker: Adrianne Cale; Cody Frederick; Kelsi McFarland;
Washington: Ryan Dean; Evan Gegraef; Clayton Petrehn; Shianne Winters;
Waverly: Mary Hammons; Scott Holbert; Whitney Kiger; Sasha Morrell;
Williamstown: Amanda Brown; Rhonda Galyean; Benjamin Harris; Karlee Lane; Joellen Masten; Alisha Masten; Sierra McGee; Carl Moore; Rodney Shawver; Joshua Taylor;
OHIO – Columbus: Susan Heath;
Belpre: Darian Farley; Jonah Fox; Austin Grimmett; Tracy Maston; Brittan Miller; Amber Roberts;
Coal Run: Matthew Barton;
Marietta: Clay Paschal; Tiffany Roberts; Ella Sillaman;
Reedsville: Gail Hollon;
Vincent: Kaylee Kiggins;
Dean's Scholars
Students named to the Dean's List maintained a 3.5 grade point average while earning six or more hours of college credit. The scholars include:
BRAXTON COUNTY– Sutton: Monica Stewart;
CABELL COUNTY – Culloden: Jamie Gillespie;
CALHOUN COUNTY – Grantsville: Courtney Lewis;
Creston: Emma Miller;
Grantsville: Courtney Lewis;
HANCOCK COUNTY – New Cumberland: Paul Malinowski;
HARRISON COUNTY – Clarksburg: Zachary Sandy;
JACKSON COUNTY – Cottageville: Jessica Beckham; Nancy Bowen; Andrew Hoschar; Elizabeth Vidrine;
Evans: Jessica Bunner; Colin Cummings; William Durst;
Gay: Lawrence Price;
Given: Kelsey Dixon;
Kenna: Corey Duff; James Sayre;
LeRoy: Sydney Casto; Hannah Hamon;
Ravenswood: Alex Anderson; Alexa Barker; Stephanie Cutlip; Angela Fields; Hannah Hoffman; Shane Johnson; Nicholas Johnston; Logan Nelson; Philip Randolph; Ariel Rebstock; Colton Rhodes; Quinton Sells; Dani Sinnett; Kaylee Stewart; Anthony Vespucci; John Woodrum; Brandon Wyant; Ashley Wyant;
Ripley: Travis Baker; Julie Banton; Mattew Barnette; Mary Elise Clark; Cassidy Craddock; Nicholas Cunningham; Angela Cunningham; Corey Dale; James Dobbs; Mattia Goodrich; Jackie Harper; Matthew Harris; Kathy Harris; Katelyn Hess; Tyler Hilbert; Angela Johnson; Johnathan Jones; Amy Joseph; Donna Kay; Briana Lake; Ayaka McBee; Jerry McKee; Aston Moore; Ethan Rhodes; James Rollins; Brandy Skaggs; Josiah Smith; Alisha Tibett-Tackett; Tanya Winter;
Sandyville: Michael Holmes; Jennifer Riggs; David Smith; Michaels Woods; Anthony Roberts;
JEFFERSON COUNTY – Harpers Ferry: Heather Haught;
KANAWHA COUNTY – Charleston: James Carroll; James Pennington;
Cross Lanes: Angelina Williams;
Elkview: Jenna Elmore;
Liberty: Gregory Carney;
Saint Albans: Carla Walker;
MARION COUNTY – Fairmont: Edward Rothwell;
MARSHALL COUNTY – Moundsville: Mitchel Herbold;
MASON COUNTY – Clifton: Kayla Blair;
Leon: Emily Keefer; Dusty Smith;
Letart: Janae Cundiff; Jeff Jodon; Sarah Spencer;
Mason: Logan Raynes;
New Haven: Lacy Darst; Keely Dewees;
Point Pleasant: Benjamin Halley; Adam Kaylor; Cassie O'Hara; Sean Rickard;
MERCER COUNTY – Princeton: Amanda Thompson;
MONONGALIA COUNTY – Morgantown: Dequoia Linton;
PLEASANTS COUNTY – Belmont: Matthew McCoy;
Friendly: Kali Morgan;
Saint Marys: Kenneth Arnett; James Evans; Rachael Flanagan; Connor Lancaster; Holly Moore; Kyle Taylor; Laura Taylor; Kelsi Thein; Selena Whipkey; Kathy Wince;
Waverly: Hannah Mollohan;
PRESTON COUNTY – Kingwood: Kurtis Johnson;
PUTNAM COUNTY – Hurricane: Amanda Brubaker;
RANDOLPH COUNTY – Norton: Sallie Hamrick;
RITCHIE COUNTY – Berea: Mercedes Furr;
Ellenboro: Shannon Reilly; Dalton Stump;
Harrisville: Cheyenne Arbogast; Danny McGinnis; Mark Zavisho;
Pennsboro: Alexander Gilliland; Ashley Ginanni; Matthew Johnson; Karen Kemmerer; Sherilyn Stahlman;
Petroleum: Leslie Davis; Tristan Ray;
Pullman: Evan Napier;
Smithville: Chelsea Ayers;
Gandeeville: Georgia Bing; Jacqueline Stevens;
ROANE COUNTY – Leroy: Doreen Mitchell;
Reedy: Quentin Corbitt; Erica Ellison; Brandy Hylbert; Ken Love; Darlene Means; Rachael Ryan;
Spencer: Benjamin Atkinson; Amber Bailey; Morgan Cottrell; Samuel Dennis; Tyrell Frame; Baylee O'Brien; Larra Rose; Alexis Saunders; Meghan Sinclair; Madison Sutphin;
TYLER COUNTY – Middlebourne: Shayla Griffey; Jeremiah Lancaster;
Sistersville: Erin Gieseke; Melanie Pettus; Savannah Wright;
UPSHER COUNTY – Buckhannon: Brandon Littler;
WETZEL COUNTY – New Martinsville: Melissa Beegle;
Paden City: Travis Leonard;
WIRT COUNTY – Elizabeth: Toni Cain; Cindy John; Joshua Kiser; Amber Lott; Mackenzie Nester; Shawna Nester; Damian Williamson;
Palestine: Haley McCoy;
Walker: Mary Ellen Hunt;
WOOD COUNTY – Belleville: Lisa Miller;
Davisville: James Carpenter; Abigail Delancey; Zachary Elkins; Sherry McCay; Chance Rawson;
Mineral Wells: Seanna Allman; Aaron Beam; Zoe Bookman; Chad Conley; Sierra Conley; Mikayla Dawson; Tara Elms; Sierra English; Carter Grogan; Rebekah Hogsett; Jenna Horton; Jenifer Jones; Peggy Pase; Kayla Payne; Logan Penn; Rebecca Rhodes; Kelsie Schramm; Victoria Shepherd; Alyssa Stalnaker; Candace Webb; Edward Whipkey;
Parkersburg: Suleiman Abimiku; Abby Anderson; Leea Armstrong; Faith Atkinson; Tabitha Bee; Brian Belcher; Kali Bell; Olivia Brannan; Johnny Britton; Cole Bullard; Allison Burchard; Dylan Burkhammer; Havenn Burton; Chrie Byrd; Jeremy Caplinger; Morgan Carez; Christopher Cavanagh; Brandon Coss; Aaron Cottrill; Brandon Cottrill; Kaylee Cottrill; Rachel Cunningham; Sabrina Deem; Emily Derenberger; Elizabeth Doak; Christopher Doan; Temperance Doyle; Nicholas Drake; Mary Eddy; Amanda Emrick; Ethan Floyd; Jason Floyd; Jennifer Floyd; Melissa Fox; Angela Gandee; Maria George; Brandon Gill; Heather Graham; Serena Graham; Ivie Green; Joel Green; Kyle Greif; Alyssa Grim; Rashelle Hamilton; Casey Harker; Lauren Harpold; Olivia Hart; Gabbie Hayes; William Helman; Autumn Henthorn; Katelyn Herrod; Melissa Hoosier; Joseph Hunt; Amy Hupp; Tammy Hutto; Erica Jackson; Shennay Jackson; Carmen Joachim; Erika Johnson; Lee Johnson; Sherri Kearse; Alex Kimble; Stephanie Lautar; Branden Lemon; Austin Luther; Brianna Luther; Alex Lyons; Sharon Maloney; Brittany Martin; Brooks Martin; Ruthellen Mason; Joshua Mays; Elise McCay; Peter Mccumber; Madison McDowell; Savannah Miller; Rachel Minney; Michael Mitchell; Paul Morehead Jr.; William Morris; Madonna Murphy; Mitchell Newbanks; Anna Oman; Tia Opel; Eric Pittaway; Joshua Posey; Holly Queen; Rachel Rader; Julie Rathbone; Taylor Ratliff; Deborah Reid; Jennifer Riffle; Lindsey Roberts; Nick Roedersheimer; Savannah Ruble; Gregory Sams; Vickie Sargent; Andrea Sears; Daniel Seebaugh; Kristi Shaver; Justine Smith; Korey Smith; Lori Stanley; Aaron Stone; Jennifer Stull; Bailey Surbaugh; Kacie Taylor; Robert Taylor; Chana Tepe; Shelby Thomas; Zane Townsend; Valerie Tucker; James Vincent; Aaron Walker; Paul Weekley; Alexandria Westfall; Ryan Willis; William Wilson; Sandipa Wolfe; Korben Wright; Joshua Zinn;
Rockport: Heather Radcliff;
Vienna: Sara Amos; Marcia Buckley; Marshall Campbell; Christopher Charlton; Robert Clatworthy; Katelin Flinn; Joshua Gainer; Sarah Hitt; Jana Howell; Judah Hyde; Ahmed Ismail; Nicole Landis; Daniel Miller; Jared Mugrage; Christopher Nelson; Patrick Nestor; Nhu Nguyen; Nathan Settle; Lora Stavrakis; Alexandria Stoops; Audrey Ungar; Brandon Waggoner; Bryon Yetter;
Walker: Collin Berwanger; Timothy Bower; Corey Eaton; Katie Hudkins; Camie Marlow; Michelle Moore; Mariah Stansberry; Christine Starcher; Annaliese Thornley;
Washington: Brandi Baker; Ginger Busch; William Cochran; Julia Dawson; Amy Dean; Rebecca Floyd; Kameron Gilbert; Kaitlyn Harper; Shawna Hopkins; Paige Hughes; Ashley Kelley; Amber Mayhugh; Terry McDonald; Wesley Mitchem; Bryanna Monroe; Madeline Murphy; Randall Nelson; Breanna Paxton; Alex Saunders; Amanda Seckman; Isabella Stoops; Wanda Turner;
Waverly: Stevie Florence; Cristy Minear; Tamara Wade;
Williamstown: Summer Devol; Talia Edge; Cassandra Fenton; Benjamin Habeb; Hannah Jordon; Tiffany Longwell; Amber Perry; Allyson Pickering; Mahkayla Queen; Joseph Sikorski Ii; Courtney Taylor; Yurgita Vaidya; Laken Valentine; Jessika Walters; Dakota Wilson; Travis Wright;
OHIO – Belpre: Jesseca Arthur; Chelsea Bunner; Heather Carpenter; Whitney Hatfield; Jessica Madison; Kayla Norman; Seungyun Ryu; Marissa Wells;
Beverly: Toya Powell;
Coolville: Jonathan Graham; Melissa Graham; Brian Suerdick;
Gallipolis: Jessica Brown;
Long Bottom: Johnny Vancooney;
Lower Salem: Kelly Casto;
Marietta: Weslee Apshaga-Meaux; Michael Brannon; Mary Brunoni; Matthew Harisiades; Jesse Henry; Jason Huck; Douglas Morris; Joshua Morrison; Alex Schilling; Lucinda Swartz;
Vincent: Lawrence Bays; Charles Lewis; Wyatt Porter;
Wilkesville: George Blankenhorn;
COLORADO – Denver: Mark Lanier;
SOUTH CAROLINA – Lexington: Aimee Kincaid;
TEXAS –Normanna: Aaron Herrera;
VIRGINIA – Stephens City: Tiffany Conklin.