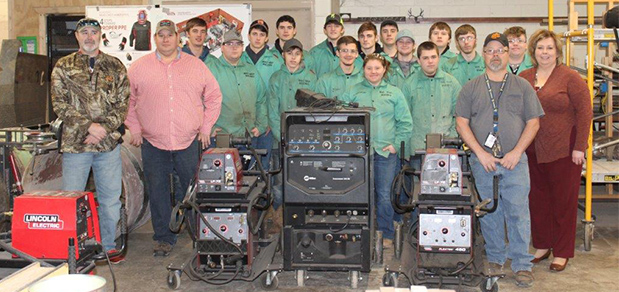 West Virginia University at Parkersburg made a recent donation to Wirt County High School's Career and Technical Education welding program.
The donation consisted of five welding stations, including four multi-process welders, four bench wire feeders and a tungsten inert gas (TIG) welder. Wirt County High School principal Elizabeth Smith accepted the donation on behalf of the school's Career and Technical Education program which provides agricultural science, business education, family and consumer science, and technical education classes to students.
Before the donation, Wirt County High School shared four welding stations between 16 students. With the five additional units from WVU Parkersburg, the high school has the ability to open more seats in its technical education class and familiarize students with the trade.
Joe Hunt, WVU Parkersburg assistant professor in welding, also introduced Wirt County High School to a more cost-effective welding supply company, providing significant price reductions on future welding technology purchases.
"WVU Parkersburg's donation allows more of our students the opportunity to complete the program and work towards their certification," said MaryJane Pope Albin, Wirt County Schools superintendent. "Our students' future employment possibilities have increased because of this generous act and it is greatly appreciated."
WVU Parkersburg offers a certificate and associate of applied science in welding as well as a 10-week course in aluminum welding. Visit www.wvup.edu/welding to learn more or call (304) 424-8310 to speak with an admissions representative.