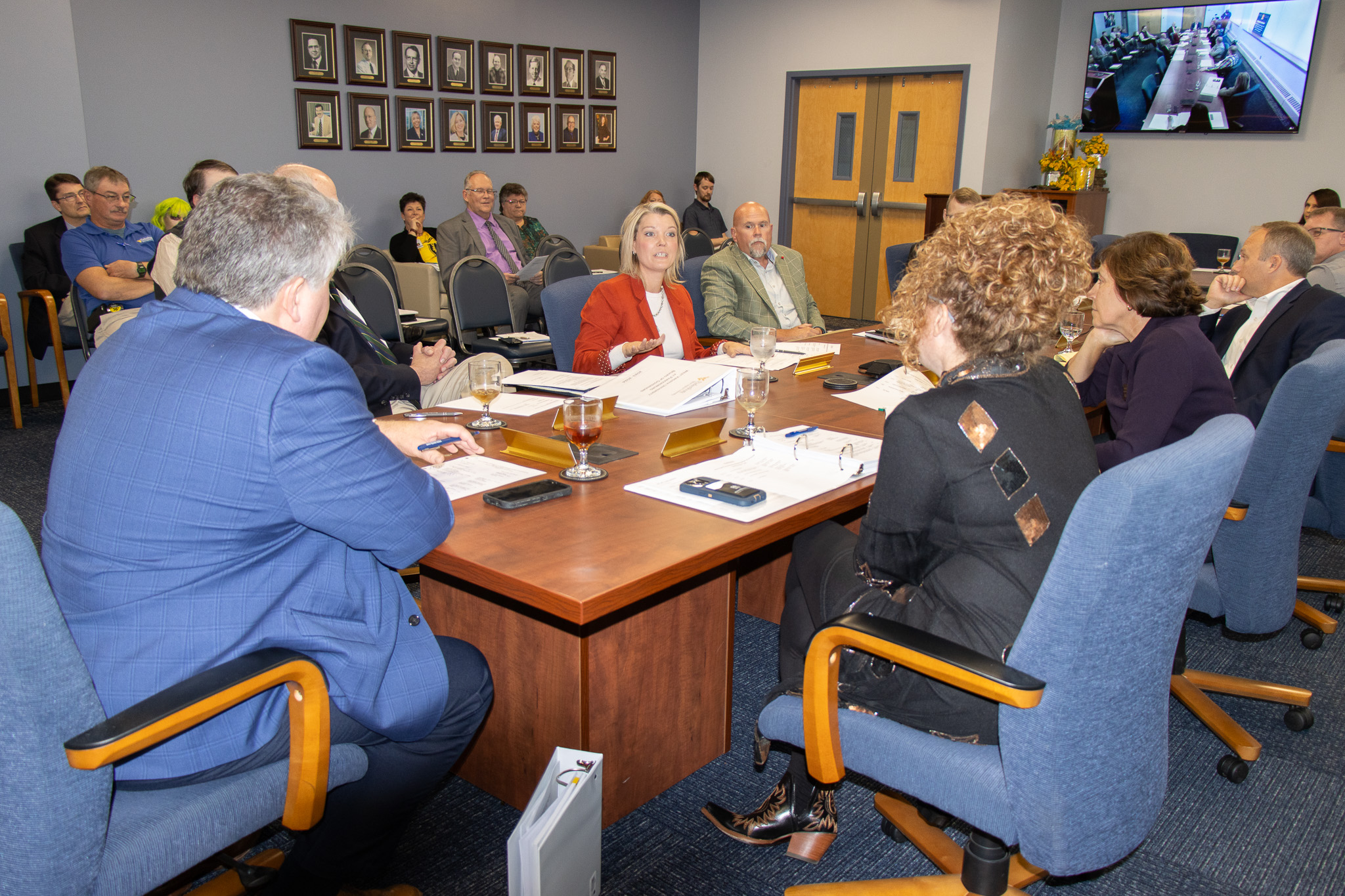 WVUP's BOG approves $450,000 resolution to renovate the JCC
Parkersburg, W.Va. (October 17, 2023) — WVUP President Dr. Torie Jackson presented a resolution to the WVUP Board of Governors to use $450,000 in reserve funds to renovate the Jackson County Center.
"We have met with an architect, and we believe that this is an adequate amount of money to be able to take the first floor of that facility (JCC) and completely turn it into the Applied Technology Center," said Jackson. "This will allow us not to continue to have a loss at that facility, and we have had a financial loss at that facility last year, nearly $400,000 and more than that in previous years. So, I'm asking that we instead invest money in it, and I think we'll be able to get a return on our investment rather shortly."
Jackson explained that the Applied Technology Center will offer two degrees, one in Advanced Manufacturing Technology and an AAS degree in Multi-craft Technology Electrical Maintenance and Reliability. The Advanced Manufacturing Technology degree will help students find employment at companies like Nucor Steel in Mason County and TIMET in Jackson County. The degree in Multi-Craft Technology Electrical Maintenance and Reliability will be available at the center and is used to help find employment at Constellium in Jackson County.
The board unanimously approved the resolution.
Vice President for Academic Affairs Dr. David Lancaster presented a resolution to offer the Bachelor of Applied Technology (BAT) degree online.
Lancaster said WVUP has a previous articulation agreement with Piermont Community & Technical College in Fairmont and Blue Ridge Community and Technical College in Martinsburg to offer their students the opportunity to transfer to WVUP to earn a BAT after earning an associate degree.
"That is the path we want to go with some of our degrees because we're able to reach out and help other community colleges and help students," said Lancaster.
The resolution would partner Aiken Technical College in Graniteville, South Carolina, with WVUP by offering students a pathway to take the BAT degree program online.
"So, if we can develop that online, then we can also do that in South Carolina or any other place," said Lancaster. "If you approve this — it means that we have certain classes students can only take online, wherever they are. I really do think this is a way to the future."
The board voted to unanimously approve the resolution.
Jackson gave an update on the WVUP Technology Center, an advanced manufacturing grant, the dual credit initiative and a technical program development grant.
Jackson said the West Virginia University at Parkersburg Foundation is on course to close the Ohio Valley University property as the property purchase appeal process ends at the end of the month. Jackson said the bankruptcy appeal time is completed, but the receivership appeal time will end 30 days after the October 22 hearing.
Jackson also announced that the West Virginia Community and Technical College System Board approved an application for a technical program development grant for Radiology Technology.
"We will soon hire a coordinator and begin the steps to create this new program, one that has been requested by both WVU Medicine Camden Clark and Memorial Health Systems to help meet local job needs," said Jackson.
In other news:
The board unanimously approved a resolution to update the BOG policies to reflect a review of the Equal Opportunity Policy and a review of the Employee Leave policy.
The board also unanimously approved the review of the Payment and Refund of Fees Policy. The board will review the current policies and vote to approve any changes during the next BOG meeting.
The next WVUP Board of Governors meeting will take place January 16, 2024.