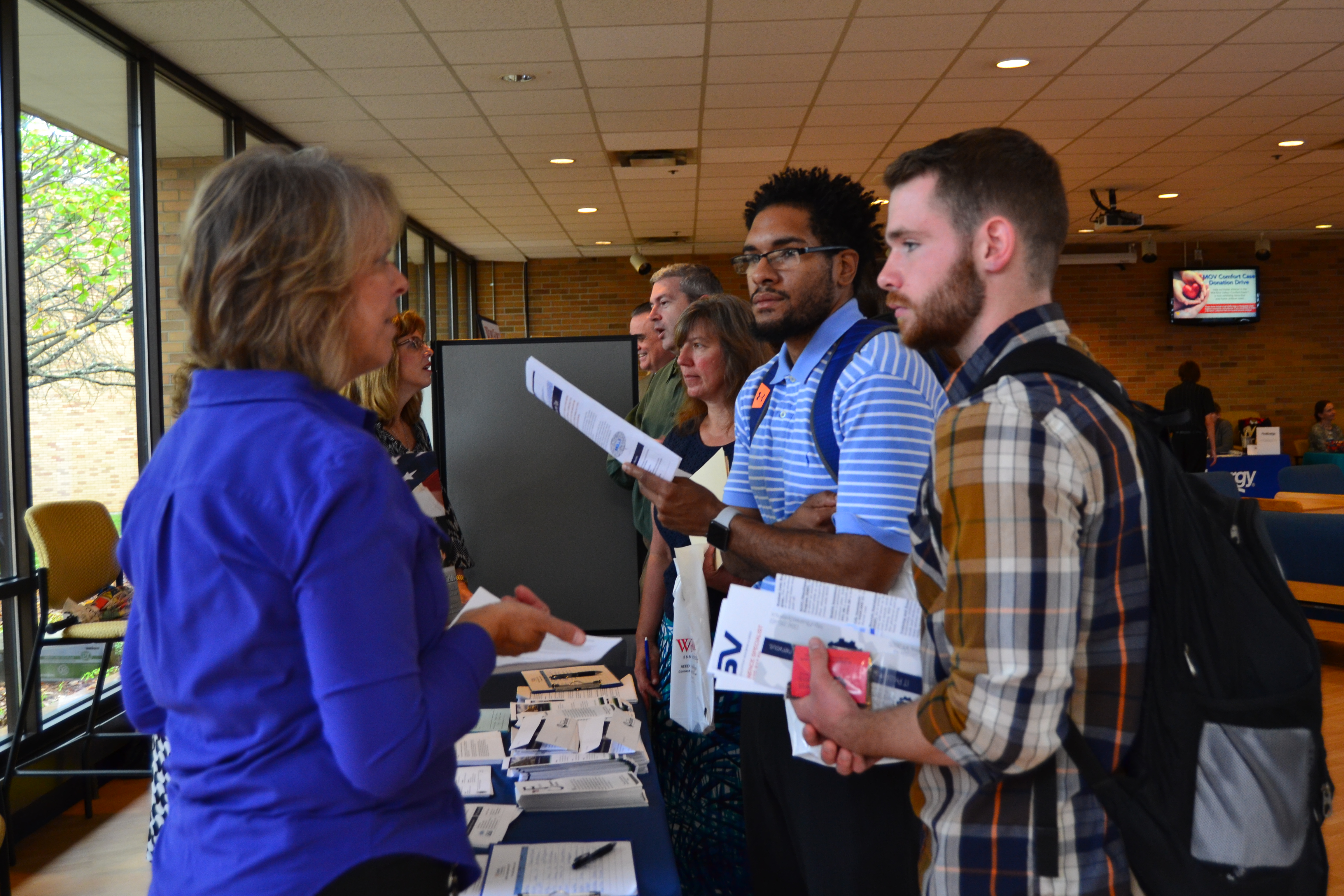 The third annual Mid-Ohio Valley (MOV) Career Fair, presented by U.S. Senator Joe Manchin and West Virginia University at Parkersburg, will be held Friday, Sept. 27, from 10 a.m. to 2 p.m. The event takes place on the WVU Parkersburg campus and is free and open to the public.
"The MOV Career Fair is a great way for West Virginians and companies to meet so that our citizens can find careers and our businesses can hire capable, prepared workers," said Senator Manchin. "As our state gains job opportunities, these career fairs are essential to ensuring that West Virginians are hired to fill those roles. I look forward to seeing the positive results of this career fair for our state and our people."
Job seekers will have the opportunity to meet with more than 100 businesses and organizations actively seeking employees at the career fair. The college will also provide a free photo opportunity for those seeking professional portraits. Job seekers should dress professionally, bring plenty of resumes and research registered employers.
"WVU Parkersburg is so honored to work with Senator Manchin and his team," said WVU Parkersburg President Dr. Chris Gilmer. "He has proven his commitment to our University and to leading the charge in workforce development in the Mid-Ohio Valley. We are glad to work with him and all of the communities we serve to link employers to prospective employees. We do this for our students and graduates who are highly trained and prepared to enter the job market, and for others in the area who need to find employment to advance their family and to live fully into their potential. We see ourselves as a bridge, and it's a role we are pleased to fill."
The MOV Career Fair 2019 is presented in partnership with the Chamber of Commerce of the Mid-Ohio Valley, Results Radio, the Workforce Development Board Mid-Ohio Valley and Workforce West Virginia.
The complete list of registered employers includes: Aardvark Communications & Security; Addus Home Care; Affordable in Home Care; Al Rec LLC; All Ways Caring HomeCare; Alliance Industries; Allstate; Amyx Inc.; Besl Transfer Company; Bi-Con Services; Boys & Girls Club of Parkersburg; Bureau of the Fiscal Service; Calhoun County Schools; The Career Center – Adult Technical Training; The Chemours Company; Clayman & Associates; Combined Worksite Solutions; Community Resources Inc.; Contractor Transport; CSL Plasma; Discover the Real West Virginia Foundation Inc.; DSV Solutions; Eagle Pointe; Edward Jones; Encompass Health Rehabilitation Hospital of Parkersburg; EZG Manufacturing; FBI – Criminal Justice Information Services Division; FCC Hazelton; Federal Bureau of Prisons; The Galley; Goodwill Industries of Kanawha Valley Inc.; Grand Canyon University; H&R Block; Hanson Ready Mix; Havar Inc.; Hi-Vac Corporation; Human Resource Development Foundation Inc.; ICL; iHeartMedia Mid-Ohio Valley; Infor; Insulators Local #80; International Brotherhood of Electrical Workers; Jan-Care; JCPenney; K.S. of West Virginia Co. Ltd.; Kanawha Place; KVC Health Systems WV; Lang Masonry & Restoration Contractors; Louis A. Johnson VA Medical Center; Magnum Magnetics; Matheny Motors; Maxim Healthcare Services; Memorial Health System; Minnie Hamilton Health System; Mole Master Services; Morgantown Police Department; MOV Association of Government Accountants; MOV Transit Authority; N3; National Council on Aging – WV Resource Center; Ntiva; Ohio Valley Educational Service Center; ON-BOARD; Pactiv; PAIS; Peoples Bank; Perry & Associates, CPA's; Planet Fitness; Plexus-PSA; Promanco; Results Radio; Rhodes Trailers & Truck Bodies; Roane County Board of Education; Salvation Army; ScribeAmerica; Snowshoe Mountain Inc.; SW Resources Inc.; Terra Sonic International; Thomas R. Moran Construction Co. Inc.; TMC Technologies of West Virginia; United States Army; United States Postal Service; Vacuum Truck Rentals; WesBanco Bank; West Virginia Air National Guard; West Virginia Army National Guard; West Virginia Sheet Metal Workers JATF; West Virginia University at Parkersburg; West Virginia University John Chambers College of Business and Economics; Westbrook Health Services; Western & Southern Financial; Wexford Health Source at St. Marys Correctional Center; Wolf Creek Contracting Co. LLC; Wood County 911 Center; Wood County Schools; Workforce West Virginia; Worthington Healthcare Center; WV Assistive Technology System; WV Department of Health and Human Resources; WV Department of Transportation / Division of Highways; WV Division of Corrections and Rehabilitation; WV Division of Natural Resources; WV ESGR; WV Laborers Training Center; WVU Extension Service; WVU Medicine Camden Clark Medical Center; WVU Parkersburg Workforce & Economic Development; and Xtreme Labor Solutions.
For more information on the MOV Career Fair 2019, visit www.wvup.edu/career.