Parkersburg, W.Va. (Oct. 6, 2021) – Leapfrog, hopscotch, bear crawling – these seem like popular playground games, but for area elementary schools, these are mindful activities.
WVU Parkersburg's Kappa Delta Pi (KDP), an international honor society in education, has partnered with Criss and Franklin Elementary Schools in Wood County to provide sensory paths for youth. Sensory paths are a series of guided movements for children to follow, helping develop motor skills.
"These sensory paths can increase the number of minutes that students are physically active during the school day," said Stephanie Stopiak, WVU Parkersburg Education instructor. "Sensory paths can also help students develop coordination skills and increase focus and attention. Teachers can use sensory paths for transitions, recess, brain breaks or a calming area."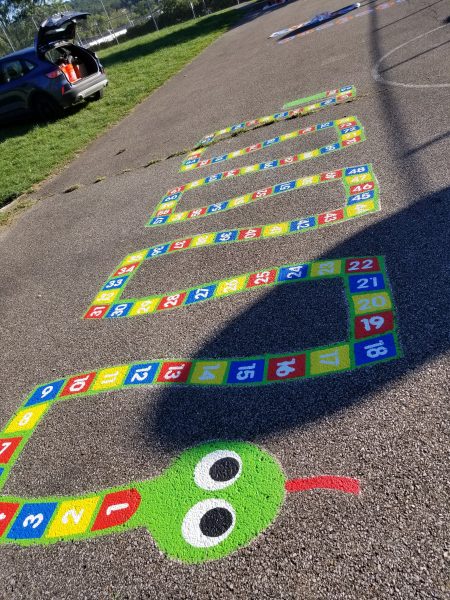 At Franklin, KDP members installed two sets of agility tires for children to count by fives as they hop through the obstacle, and they painted a Bigfoot walking path. At Criss, they painted a hula hoop hop path, ABC alphabet tree, moon boots hop path and a snake path that encourages counting by ones.
For KDP President Leah Harvey, this service project is an example of applying what she learns in the classroom to real life.
"As education majors, we are very fortunate to learn from and work side-by-side with some of the best teachers in Wood County," Harvey said. "We were able to meet our possible future colleagues and students."
She continued, "We were also able to gain the experience of painting these sensory paths, which will be a visually stimulating way for students to practice motor skills and can tie to different content skills practice. Every student can use and enjoy the sensory paths, and we cannot wait to see them in action."
The project was funded by the SNAP-Ed grant, which aims to educate families on healthy choices and promotes active lifestyles.
For more information on the WVU Parkersburg Elementary Education program, please visit wvup.edu/education.