Parkersburg, W.Va. (March 12, 2021) – High-achieving student Jared Smith has been named the WVU Parkersburg representative for the Phi Theta Kappa (PTK) 2021 All-USA Academic Team. Only 20 students from more than 2,000 nominations were selected, and as a team member, Smith will be awarded a $5,000 scholarship.
Smith is not only a representative for the WVU Parkersburg Sigma Omega chapter of PTK, but he is also a student veteran serving as president of the college Veterans Corps. As part of his All-USA Academic Team member application, Smith wrote about his leadership in establishing and chairing the Mansfield, Ohio Gold Star Families Memorial Monument project by the Hershel "Woody" Williams Medal of Honor Foundation.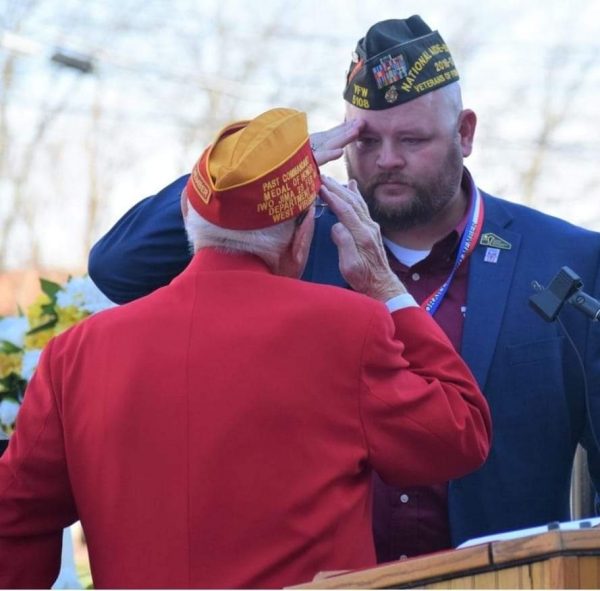 "This provides a unique opportunity of healing, education and outreach to the public of our Gold Star Families and their heroes," said Smith. "The project also provided me with an opportunity to give back to the community that has given me so much."
From picking a memorial site to raising over $67,000 in monetary and in-kind donations and organizing the groundbreaking and dedication ceremonies, Smith and his committee members were able to advocate for Gold Star Families and allow others to start their healing process.
"Jared became quickly engaged with our chapter and is always motivating our officer team," said Marie Butler, WVU Parkersburg Sigma Omega PTK chapter advisor. "He has a wonderful life story to share and I am so happy Phi Theta Kappa has been an instrument to allow him to share that story. Our chapter is extremely proud of him being selected for this prestigious honor!"
While Smith receives recognition and distinction for his leadership and service to the community and college, he gives credit to his life experiences and mentors who have shaped him into the person he is today.
"The cause is greater than I. For so many, this is a simple truth taken for granted," said Smith. "At age 21, I survived three combat actions that should have taken my life, yet I was never even wounded. I knew that there was a much bigger plan for my life…I needed to live a life worth the sacrifice of those who have given their all, who have given their lives for our great country."
He continued, "I believe the early success I have found is because I continue to surround myself with people who are greater than I."
Smith served in the United States Army Reserves from 2002-2016, earning the rank of Staff Sergeant. He deployed for Operation Iraqi Freedom from 2004-2005 and 2007-2008, and he deployed for Operation Enduring Freedom in the Joint Task Force Guantanamo from 2014-2015. Smith is currently pursuing his Board of Governors Associate of Applied Science degree, which will lead to the Regents Bachelor of Arts program.