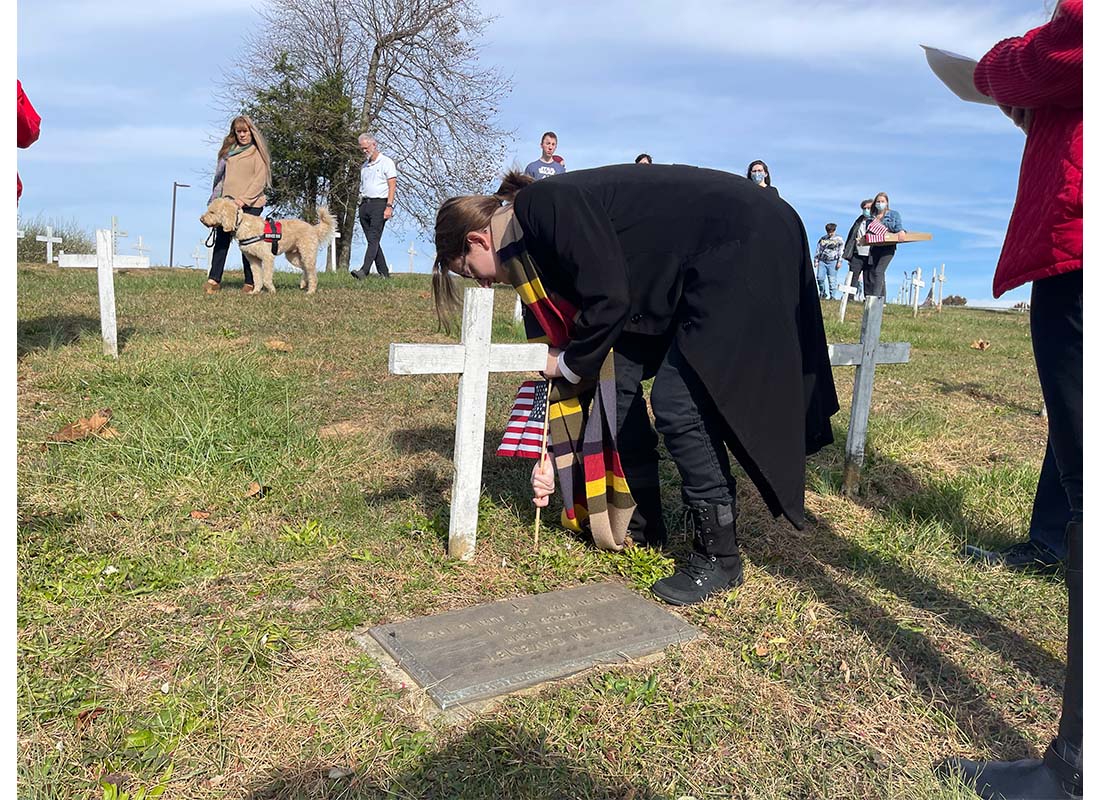 Parkersburg, W.Va. (March 30, 2022) – West Virginia University at Parkersburg's Fine Arts Committee and Art Club are hosting a Poorhouse Cemetery clean up. Participants will meet at the Poorhouse Cemetery to pick up trash, straighten existing crosses, plant new crosses, and spruce up veteran graves to celebrate Memorial Day. 
The event will take place on Saturday, April 9, from 11 a.m. to 1 p.m., at the cemetery on the main campus. The committee recommends that participants bring their tools for cutting back branches and working around fencing and trees.
The Fine Arts Committee and Art Club's mission is to not only promote the arts and provide opportunities to explore the arts but also to promote community service. Although the pandemic has slowed past community service opportunities, the committee is looking forward to this year with its April clean-up.
"The Art Club did a little sprucing up [of the cemetery] in the fall, but we decided that if the world opened up again this April, we would plant some new crosses and spruce things up for Memorial Day," said Fine Arts Committee member Dr. Sandra Kolankiewicz. "We are hoping life will stay open and that we can host all our usual events: the art show, reading, clean up, and for the first week in October, our Poorhouse Week." 
Poorhouse Week celebrates the release of The Poorhouse Rag, the college's annual literary magazine. Named after the Poorhouse Cemetery, the magazine publishes prose, poetry, children's literature and artwork addressing themes of social justice. WVU Parkersburg also celebrates Poorhouse Week, remembering the Poorhouse of Wood County which once stood on college grounds.
The committee is currently accepting magazine submissions from WVU Parkersburg students, faculty, staff, alumni and their families. All entries will be considered for $50 genre prizes.
There is no fee to enter, and the deadline to submit is June 1, 2022. For submission guidelines, visit wvup.edu/poorhouserag.