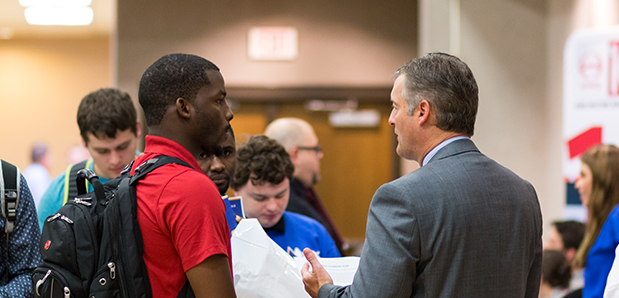 The second annual Mid-Ohio Valley (MOV) Career Fair presented by U.S. Senator Joe Manchin and West Virginia University at Parkersburg will be held Friday, Sept. 28 from 10 a.m. to 2 p.m. The event takes place on the WVU Parkersburg main campus and is free and open to the public.
"It is always an honor to be part of one of these job fairs that will provide hundreds of hard-working West Virginians the opportunity to connect with employers all across the region," said Senator Manchin. "It is my hope that job seekers will link up with employers or resources that will help them find a new job. More than 100 businesses are expected to be on site and I thank Dr. Gilmer and WVU Parkersburg for the opportunity to be part of this."
All businesses and organizations registered to attend the career fair are actively seeking employees. The college will also provide a free photo opportunity for those seeking professional portraits. Job seekers should dress professionally, bring plenty of resumes and research registered employers.
WVU Parkersburg will host Christian Martine, Facebook product solutions manager and West Virginia native, for an informative presentation, "Working for Facebook with Christian Martine," at 1:00 p.m. in the theater. He will discuss how Facebook makes a difference in the world and provide a brief overview about how he became employed with the social media giant.
"We are deeply honored to work with Senator Manchin and his team to showcase Mid-Ohio Valley employers to our students and our students to potential employers," said Dr. Chris Gilmer, president, WVU Parkersburg. "With more than 100 of the most exciting businesses in the area participating, the event is part of the university's commitment to fill the workforce needs of the communities we serve."
The MOV Career Fair 2018 is presented in partnership with the Chamber of Commerce of the Mid-Ohio Valley, Results Radio, the Workforce Development Board Mid-Ohio Valley and Workforce West Virginia.
The complete list of registered employers includes: Addus Home Care; AL REC LLC; Appalachian Oilfield Services; Architectural Interior Products; Armacell LLC; Bankers Life; Basement Systems of West Virginia; Bi-Con Services Inc.; Bowles Rice LLP; Boys & Girls Club of Parkersburg; BSSI; Bureau of the Fiscal Service; Burger King; Career Connections; Caron Products & Services Inc.; CCIL / WV's Choice; Chemours Company; Chick-fil-A; Children's Home Society of WV; Classic Carriers; Colonial Life; Community Bank of Parkersburg; Conley Fabrication LLC; CSL Plasma; DeepRock Disposal Solutions LLC; Department of Health and Human Resources; DSV Solutions; Eldercare Health & Rehabilitation; Emily Allman / State Farm; Employer Support of the Guard and Reserve; Extras Support Staffing; Fresh Plant Pilgrims; Genesis Health Care; H&R Block; Hi-Vac Corporation; Highmark Health; Hino Motors Manufacturing USA Inc.; Human Resource Development Foundation Inc.; ICL Americas; iHeartMedia; iTech; IVS Group; Jan Care Ambulance Inc.; Jan Dils, Attorneys at Law; JCPenney; Kelly Services Inc.; KVC West Virginia; Local #80 Heat & Frost Insulators; Louis A. Johnson VA Medical Center; Lowe's; Magnum Magnetics; Mancan; Manpower; Mason County Schools; Matheny Motors; Memorial Health System; Minnie Hamilton Health System; Mole Master Services Corporation; Nathan Alfred Insurance; NCOA Senior Employment; NOE Office Equipment; North Central Regional Jail; On-Board Services; Operating Engineers Local 132 Apprenticeship & Training; Pactiv; Panhandle Support Services; Penske Logistics; Perry & Associates; Phoenix Associates Inc.; Pickering Associates; Plexus / PSA; Plumbers and Steamfitters Local 565; Ply Gem Industries Inc.; PMA USA; Premier Bank Inc.; Pro Careers Inc.; Rescare Community Living; Results Radio; Roane County Board of Education; ScribeAmerica; Securitas Security Services USA; Simonton Windows and Doors; Somerville Industries Inc.; Star Plastics Inc.; State Electric; Surge Staffing; Suttle & Stalnaker PLLC; Thomas R. Moran Construction; Touchstone Testing Lab; Tri-State Roofing & Sheet Metal Company; United Bank; United States Army; United States Marine Corps; United States Postal Service; Washington State Community College; We Staff Better LLC; WesBanco Bank Inc.; Westbrook Health Services; Western & Southern Financial; Wexford Health Source at St. Marys Correctional Center; Wood County Schools; Wood County Senior Citizens Association; WorkForce West Virginia; Worthington Healthcare Center; WV Carpenters Training Center; WV Department of Transportation / Division of Highways; WV Division of Corrections and Rehabilitation / St. Marys Correctional Center and Jail; WV Division of Rehabilitation Services; WV Laborers' Training Fund; WVU Extension Service; WVU Medicine Camden Clark Medical Center; WVU Parkersburg and Xtreme Labor.
For more information on the MOV Career Fair 2018, visit www.wvup.edu/career.