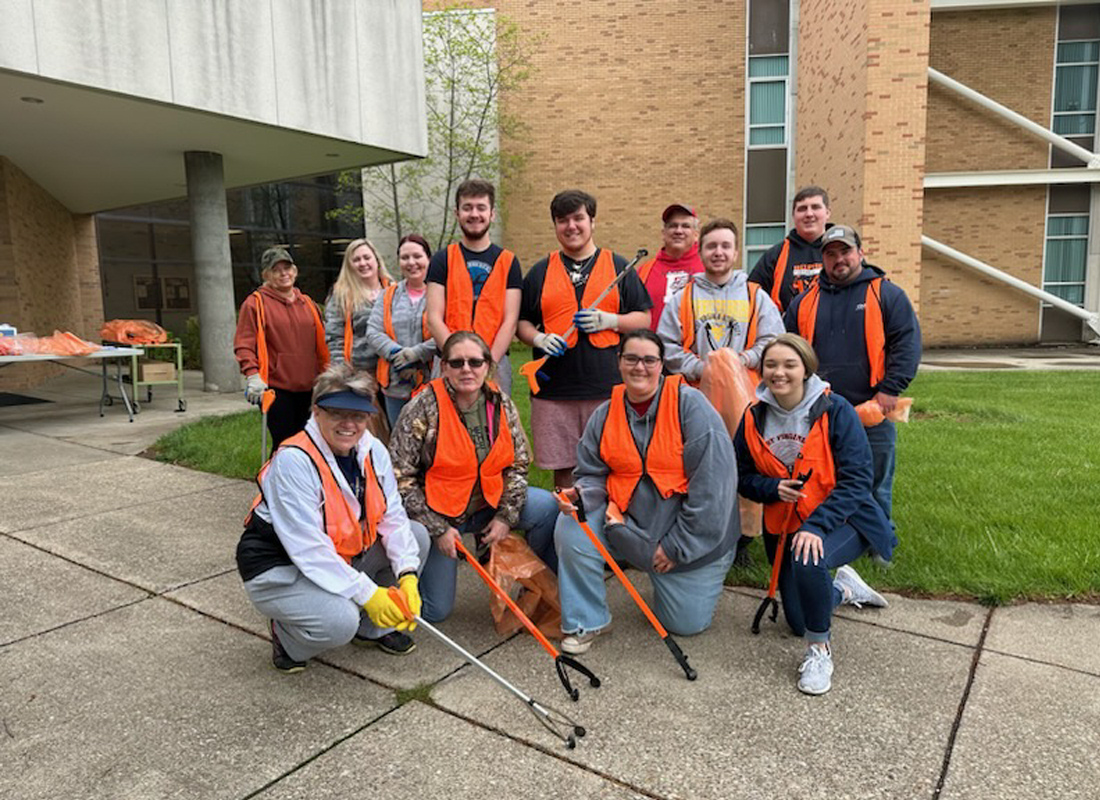 Parkersburg, W.Va. (May 2, 2023) – West Virginia University at Parkersburg's Phi Theta Kappa Sigma Omega chapter sponsored an Adopt a Highway cleanup that took place on Saturday, April 29, 2023.
"Fourteen volunteers (Brayden Boothe-Nelson, Adam Fox, Jonah Fox, Zack Burner, Candy Parsons, Kelly Digman, Colton Richards, Ayden Yost, Abby Moore, PTK chapter officer Caroline Northedge, PTK Alumni Victoria Poellot-Tauber, PTK chapter president Tiana Tauber, PTK advisors Andrew Walker and Marie Butler) came out to pick up litter from the edge of the roadways around campus, including Nicolette Road, Swisher Lane, Woodberry Lane, and Campus Drive," said Marie Butler,  PTK Advisor.
"We had a very successful event with a total of 9 large bags of trash/aluminum cans/pop bottles/Styrofoam cups, 2 tires and a large piece of plastic as well as numerous cigarette butts picked up in 2 hours' time."
PTK is an invitation-only honor society on campus. To be eligible, students must have a minimum 3.5 cumulative grade point average and completed at least 12 credit hours of associate degree work.
However, the event is open to all members of the campus community to take a few hours to give back to the surrounding community.  The Adopt a Highway cleanup event also fulfills required community service hours for the WV Invests, Ascend, Elementary Education and Nursing programs.
For more information about PTK, contact advisors Marie Butler (mbutler1@wvup.edu) or Andrew Walker (wwalker1@wvup.edu).