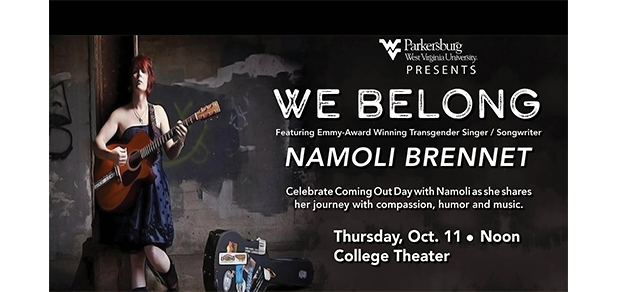 In observance of the 30th anniversary of National Coming Out Day, West Virginia University at Parkersburg's Social Justice Committee will host Namoli Brennet, transgender singer/songwriter, for her program, "We Belong" on Thursday, Oct. 11 at noon in the college theater. Funded, in part, by the Higher Education Resource Assessment (HERA), the event is free and open to the public.
In reflection of her own coming out, Brennet will relate her story of becoming a musician, living with anxiety, discovering herself and starting a public transition from male to female. Brennet uses her musical talents, humor, and compassion to help audiences leave with a clearer understanding of self-worth no matter who they are or what they choose.
"National Coming Out Day is a time for us to honor those who have come out not only as lesbian, gay, bisexual, transgender or queer (LGBTQ), but also as straight allies for equality," said Debbie Richards, WVU Parkersburg special assistant to the president for policy and social justice. "We hope this program will promote a respectful and inclusive environment where every campus member will feel safe about living truthfully and openly."
Brennet is a four-time Outmusic award nominee and was recently named in the inaugural Trans 100 list. She was also the recipient of the Tucson Folk Festival Songwriting Award and finalist in the International Songwriting Competition. Brennet's music has been featured on NPR, PBS and in films including the Emmy-award winning documentary, "Out in the Silence," which details the struggle of a gay teen growing up in rural Pennsylvania.
For more information about this event, contact Debbie Richards at Debbie.Richards@wvup.edu or 304.424.8201.