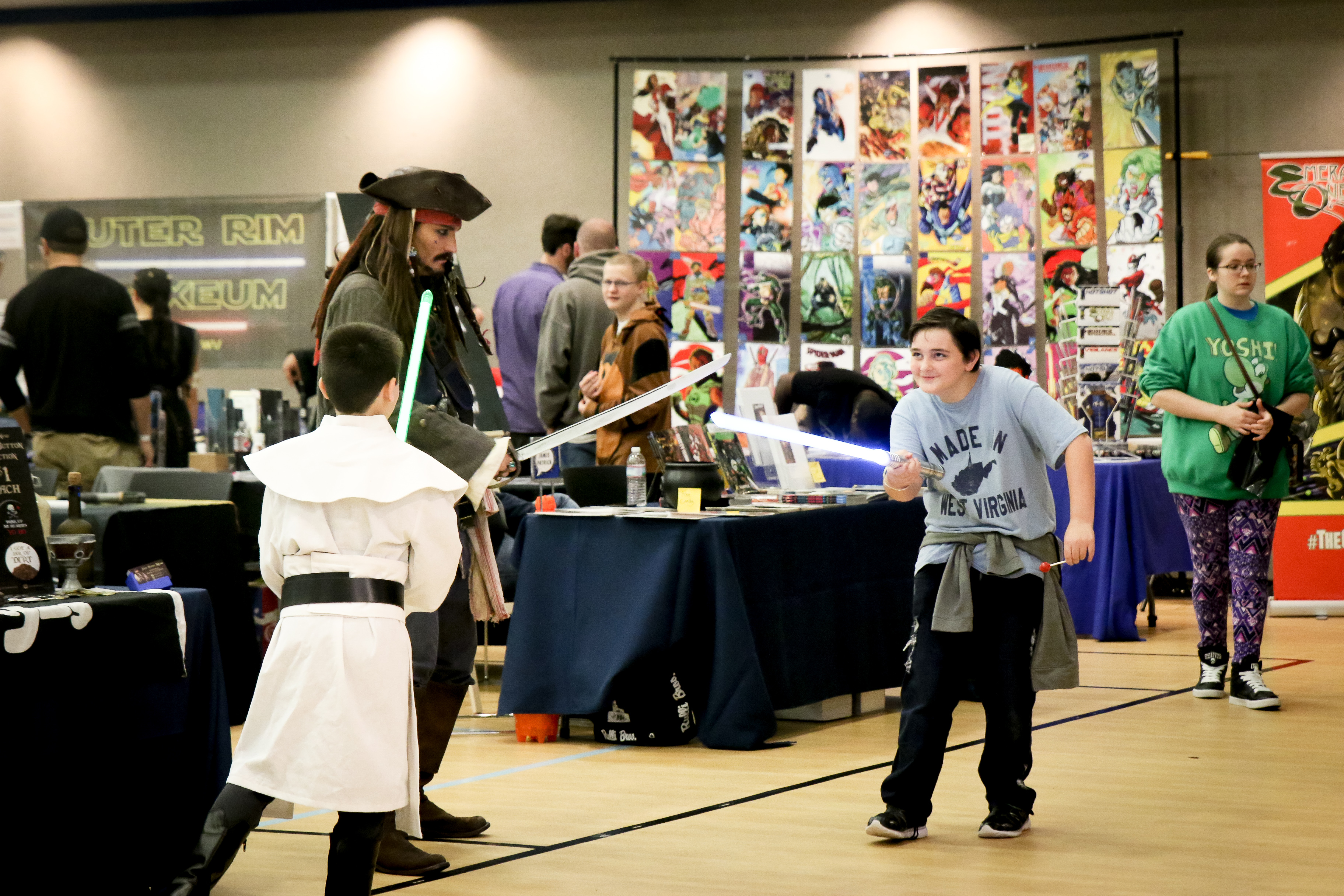 West Virginia University at Parkersburg will host the fourth annual Parkersburg Pop Con on Saturday, Sept. 28, from 11 a.m. – 5 p.m., in the College Activities Center. The event is a celebration of popular culture comics, costuming (cosplay), sci-fi, gaming, and film, and will feature numerous authors, publishers, designers and artists.
During Pop Con attendees will get to meet:
• Christian Foster, co-founder of Cos-vets; a group of U.S. Military Veterans and cosplayers who advocate cosplay and Veterans Charities. Foster is a Mid-Ohio Valley Native who formed Cos-vets to create a greater bond and understanding between veterans and their families within the cosplay community.
• Shawn Langley, a southern Ohio comic illustrator and concept artist who is best known for his work on the "Earthruler" graphic novel and "Rapid City: Below Zero" comic series. Langley also produces original concept art for various authors and publications, primarily for horror and fantasy fiction genres.
The event is supported by the WVU at Parkersburg Foundation and proceeds from Pop Con will benefit the college's community childcare center, the Center for Early Learning. Proceeds will provide needed learning resources, playground updates, and childcare scholarships to cover childcare costs for WVU Parkersburg students' children while they attend classes.
Each year, more than 600 people attend Pop Con for games, contests, cosplay, vending, and much more. "Students, children, gamers of all ages and the entire community can find something of interest at Pop Con," said Dr. Torie Jackson, Vice President for Institutional Advancement at WVU Parkersburg, and President and CEO of the WVU at Parkersburg Foundation. "We are excited that this event will help our students and their children with childcare costs."
The event schedule is as follows:
11 a.m.: Opening ceremony takes place
11:45 a.m. – 12:45 p.m.: "Your Junkyard Angel: How to make wings, and other props from recycled goods with Wayward Owl" begins in Panel Room 1, room 1535
12 p.m.: "Magic the Gathering" table top gaming tournament will take place in the 1300 hallway
1 – 2:00 p.m.:
• Youth cosplay contest takes place on the main stage in the College Activities Center
• "Sewing Workshop with Khaleesi Alysie: 5 mistakes you need to stop making if you ever want to be good at sewing," in Panel Room 1
• "Pop Con (pop culture) Trivia" begins in the Gaming Galaxy, located in the cafeteria
2 – 3:00 p.m.:
• Adult cosplay pre-judging takes place in the Press Room, room 1532
• "Lightsaber Academy" begins in Panel Room 1
• A video game tournament, sponsored by MultiVerse Comics LLC, takes place in the Gaming Galaxy
3 – 4 p.m.: Adult cosplay contest takes place on the main stage
5 p.m.: Closing ceremony takes place
To enhance the event each year, the Pop Con planning committee reviews feedback and surveys from past attendees and vendors. "We hope that this year is better than ever," said Doug Anthony, Chief Information Officer at WVU Parkersburg and co-chair of the Pop Con Planning Committee. "In addition to the wide selection of popular vendors, we have some amazing cosplayers who are willing to share how they make their one-of-a-kind costumes."
Tickets to Pop Con are available at the door. Adult general admission is $5, but children 10 and under will be admitted free with an adult ticket purchase. Veterans and current armed forces members showing a valid military ID card will also receive free admittance.
Visit parkersburgpop.com for a detailed list of vendors and more.