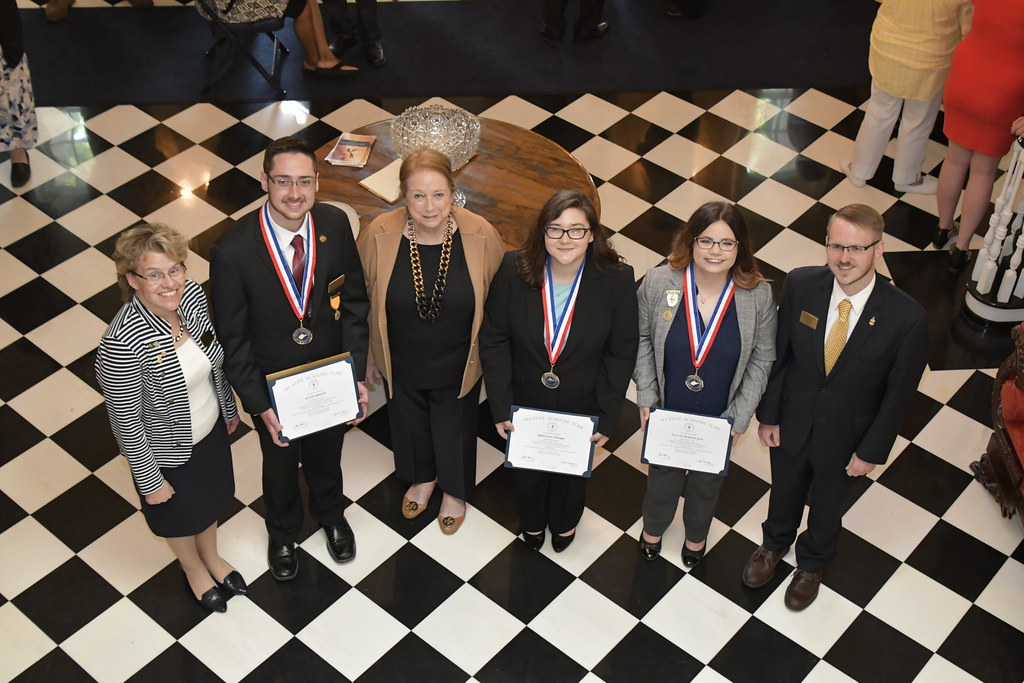 May 7, 2019 – Three members of West Virginia University at Parkersburg's Sigma Omega chapter of the Phi Theta Kappa honor society were formally recognized as All-West Virginia Academic Team members during a formal ceremony held at the state capitol on April 30.
Justin Bosley, Fallyn Buffington and Brittany Sword were formally named to the 2019 All-West Virginia Academic Team during the ceremony held at the Governor's Mansion. West Virginia First Lady Cathy Justice presented each recipient with a medallion and certificate of recognition. Bosley, one of 24 state recipients chosen for the honor this year, was selected to share how Phi Theta Kappa and WVU Parkersburg directly benefited his life.
Bosley, who serves as the Sigma Omega chapter president, will graduate in May with a Bachelor of Applied Science in Business Administration degree with a concentration in financial management. He plans to continue his education at West Virginia University in pursuit of an MBA degree.
Buffington, the chapter public relations officer, will graduate in May with an Associate of Applied Science in Criminal Justice. She anticipates completing her Bachelor of Applied Science in Criminal Justice in fall 2019.
Sword, the chapter secretary/treasurer, is working toward a Bachelor of Applied Science in Legal Studies and expects to complete her studies in spring 2021.
Phi Theta Kappa, two-year college presidents, and community college state associations co-sponsor All-State Academic Team recognition programs in 39 states. Each two-year college in West Virginia may nominate two students per campus to the All-USA Academic Team. West Virginia students nominated to the national team are generally named to the All-State Academic Team.
Students are selected for membership in the All-West Virginia Academic Team based on outstanding academic performance and service to the college and community.
"These honorees represent some of WVU Parkersburg's best and brightest students," said Marie Butler, Phi Theta Kappa Sigma Omega chapter advisor for WVU Parkersburg. "I am extremely proud of each of them."
The Phi Theta Kappa Honor Society is the largest honor society in higher education with 1,250 chapters across the United States, Canada and Germany. Membership to PTK is by invitation only and extended to students meeting specific eligibility criteria. To be eligible for membership, currently enrolled students must have a minimum 3.5 cumulative grade point average and completed a specific number of credit hours, depending upon their degree program.
Participating in the ceremony were (from left to right): WVU Parkersburg Sigma Omega chapter advisor Marie Butler; Honoree Justin Bosley; West Virginia First Lady Cathy Justice; Honoree Brittany Sword; Honoree Fallyn Buffington; and WVU Parkersburg Sigma Omega chapter advisor Andrew Walker. (Photo by Steven Rotsch)