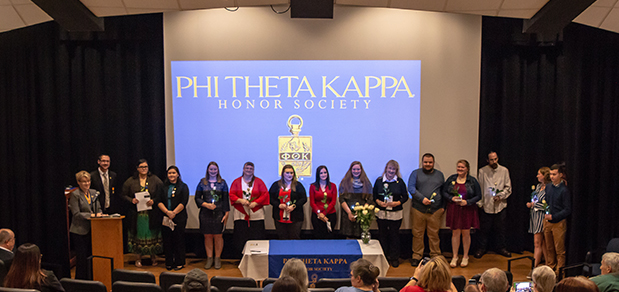 West Virginia University at Parkersburg's Sigma Omega chapter of the Phi Theta Kappa (PTK) honor society welcomed 13 new members during the fall 2018 semester. A formal induction ceremony was held on Thursday, Nov. 1 in the college theater.
During the ceremony, a formal welcome was given by Dr. Chris Gilmer, WVU Parkersburg president and PTK alumni member. Dr. Gilmer was presented with the Phi Theta Kappa Alumni medallion in recognition of embodying the organization's true spirit of leadership, service, fellowship and continual academic excellence.
Also, officers Justin Bosley, Victoria Poellot-Tauber, and Brittany Sword were installed as president, vice president, and secretary/treasurer respectively.
"Phi Theta Kappa brings together an amazing group of students that make a positive impact on our campus and community with various service projects," said Bosley. "The honor society is a golden standard for what student excellence is, and I am blessed to be in a leadership position that allows me to make a difference."
Inductees took the official oath of membership to uphold PTK's four hallmarks of scholarship, leadership, service and fellowship in the presence of their friends and family. New WVU Parkersburg Sigma Omega chapter members include:
Julia L. Blair
Heather N. Carpenter
Ashley R. Cox
Deborah A. Darling
Lauryn B. Fields
Serena M. Graham
Benjamin A. Halley
Hannah N. Halley
Andrew M. Hoschar
Amy. L Hudson
Paige M. Leasure
Thomas E. Mullenix
Walter W. Westfall
The Phi Theta Kappa Honor Society, headquartered in Jackson, Mississippi, is the largest honor society in higher education with 1,250 chapters across the United States, Canada and Germany. Membership to PTK is by invitation only and extended to students meeting specific eligibility criteria. In order to be eligible for membership, currently enrolled students must have a minimum 3.5 cumulative grade point average and completed at least 12 credit hours of associate degree coursework.
For more information about WVU Parkersburg's Sigma Omega chapter, contact advisors Marie Butler (Marie.Butler@wvup.edu), Andrew Rochus (arochus1@wvup.edu) or Andrew Walker (wwalker1@wvup.edu).