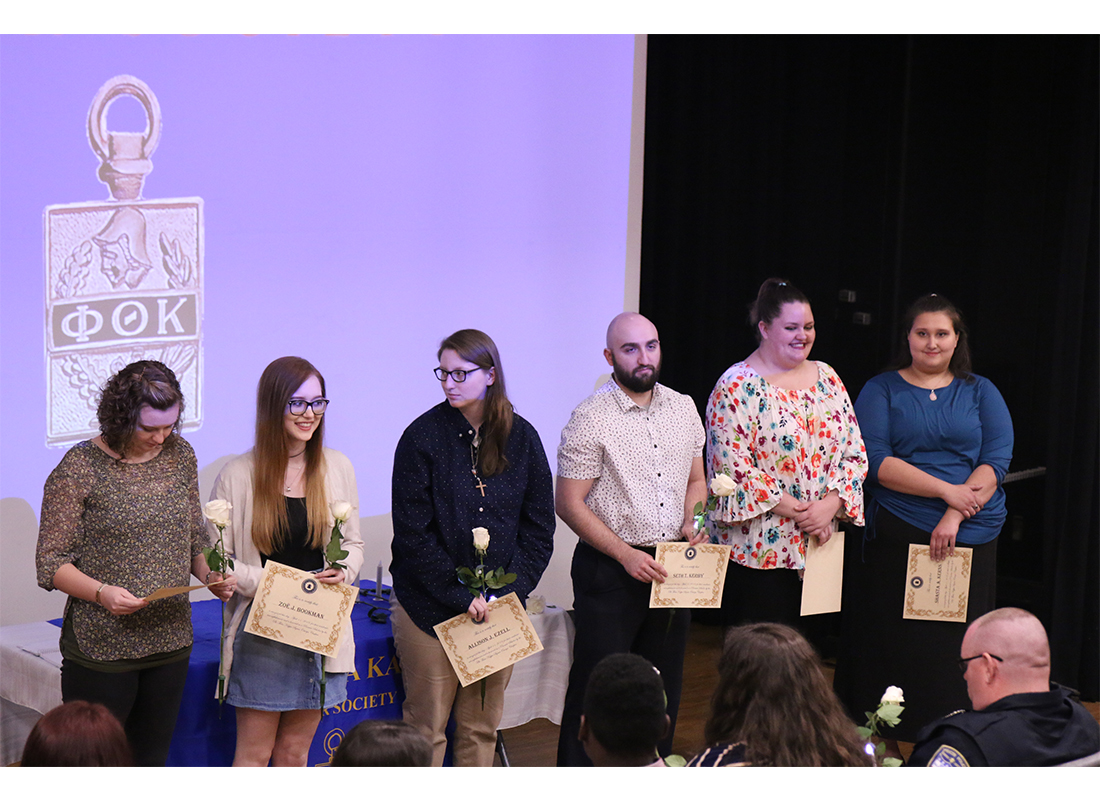 West Virginia University at Parkersburg's Sigma Omega chapter of the Phi Theta Kappa (PTK) honor society recognized new and provisional members as well as West Virginia PROMISE scholars during the spring 2019 semester. A formal induction ceremony was held on Thursday, April 11, in the college theater.
Inductees took the official oath of membership to uphold PTK's four hallmarks of scholarship, leadership, service and fellowship, and PROMISE scholars were recognized with certificates of outstanding academic excellence.
New PTK members:
Amber S. Bailey
Casey A. Bennett
Allison J. Ezell*
Terrence M. Francisco
Seth T. Kerby*
Michael Love
Sammantha E. Oglesby
Willio Rene
Mariah H. Stansberry
Haighley C. Summers
Toby D. Wagoner
Savannah L. Wright
Provisional PTK members:
Zoë J. Bookman*
Bryanna F. Monroe*
PROMISE scholars:
Shasta A. Kerns
Megan M. Stoffel
* denotes members also being recognized for their accomplishment as a PROMISE scholar.
The PTK Honor Society, headquartered in Jackson, Mississippi, is the largest honor society in higher education with over 1,200 chapters across the United States, Canada and Germany. Membership to PTK is by invitation only and extended to students meeting specific eligibility criteria. To be eligible for membership, a student must complete a specific set of minimum course hours depending on their declared major and have earned a cumulative GPA of 3.5 or higher. Students must also maintain a high academic standing throughout their enrollment in the two-year college.
For more information about WVU Parkersburg's Sigma Omega chapter, contact advisors Marie Butler (Marie.Butler@wvup.edu), Andrew Rochus (arochus1@wvup.edu) or Andrew Walker (wwalker1@wvup.edu).