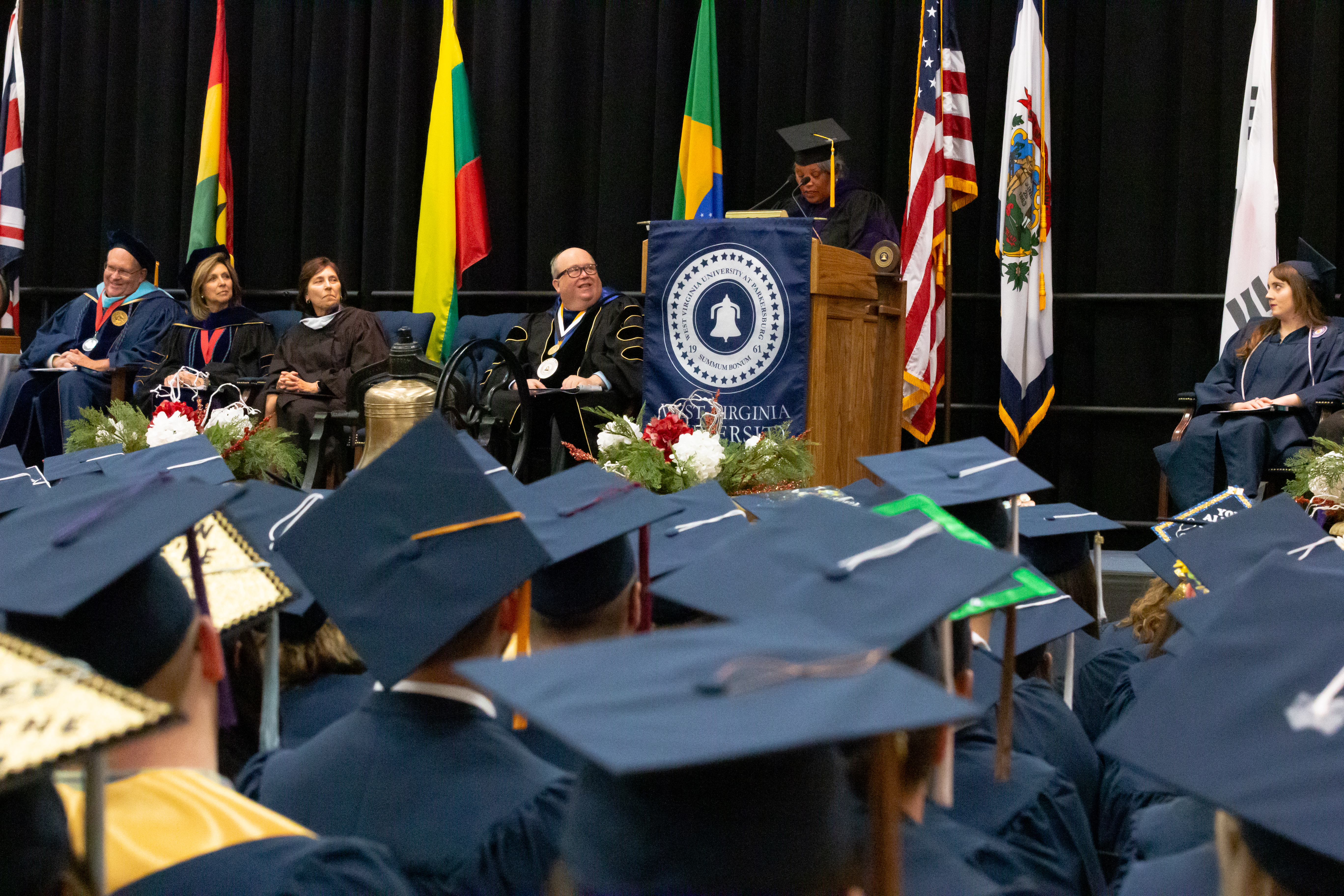 West Virginia University at Parkersburg held its fall commencement ceremony on Saturday, Dec. 14, at 10:30 a.m. The college awarded 267 certificate, associate and bachelor's degrees to 241 students this semester, with 136 students crossing the stage in front of friends and family during the ceremony.
Fourteen of the graduates are current, full-time Hino Motors employees receiving Associates of Applied Science in Advanced Manufacturing Technology. This is the first class of Hino employees to graduate from the program, which was created two years ago through a partnership between the college and truck manufacturer.
Greetings were presented by Donna Smith, chairperson for the WVU Parkersburg Board of Governors, and Miranda Reed, president of the Student Government Association.
WVU Parkersburg President Dr. Chris Gilmer gave introductions and opening remarks. In his message to graduates, he encouraged students to use the important life lessons they learned at an early age to overcome challenges and inspire them on their journey today.
"Our earliest days provide for us the true foundation of learning," said Gilmer. "Where I am today is not where I started. Neither is where you are today where you will end. Nor is it lost on this academic community as a whole, the many and real sacrifices so many of our students, and your families, make in pursuit of an education."
The Honorable Irene C. Berger, Esquire, Judge of the U.S. District Court for the Southern District of West Virginia, served as commencement speaker. Berger holds the distinction of being the first African American to be named a federal judge in West Virginia. In other accomplishments, she is the first African American female attorney to serve as an assistant prosecuting attorney in the state's largest county and be elected as a circuit court judge. The youngest of nine children, she is the first person in her family to graduate from college.
She shared her personal story of achievement and told graduates to use their degree to pursue their dream job and to be an inspiration and example to others.
"Make sure you do something with your degree that you absolutely love," said Berger. "It should be inspirational and it should be fulfilling. Whatever your path is, have the courage to reach for that dream job in your chosen field. You should do something with that degree that tells you that you are where you are supposed to be."
The college also presented a Doctor of Humane Letters to Berger. The honorary degree is the university's highest academic distinction and honors individuals whose outstanding contributions are important to the state of West Virginia, the nation and the world.
To learn more about WVU Parkersburg and its community of graduates, visit www.wvup.edu. Classes are now enrolling for the Spring semester. Call 304-424-8310 or visit our campus for more information.