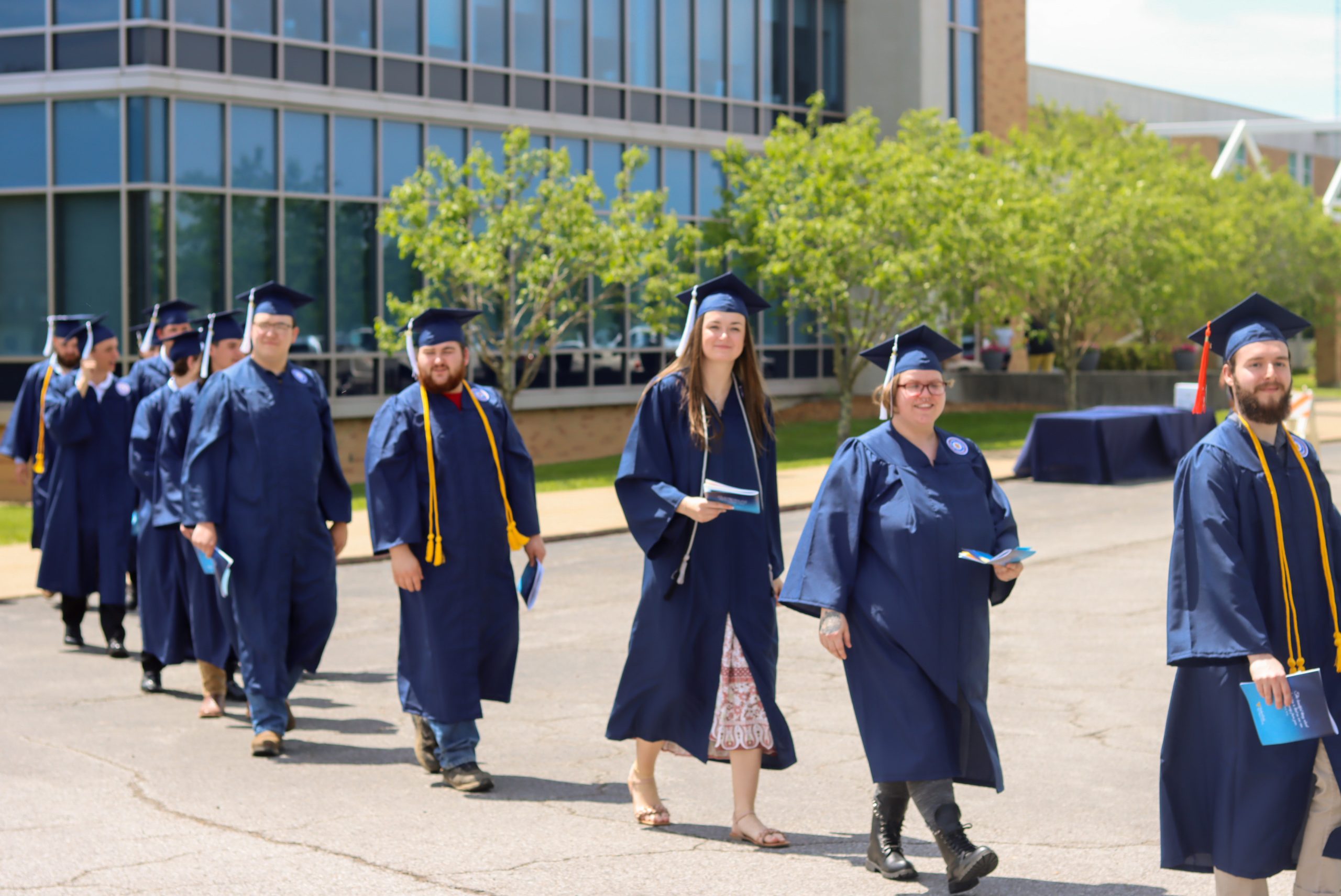 Parkersburg, W.Va. (May 9, 2023) — WVU Parkersburg held its 52nd annual spring commencement ceremony on Saturday, May 6, at 2 p.m. J. Craig McAtee, executive director and CEO for the National Coalition of Advanced Technology Centers, served as the keynote speaker.
McAtee reflected on his life experiences and told the spring class of 2023 to strive for greatness because perfection doesn't exist.
"If it ain't broke, break it because everything can be done better," said McAtee. "The bottom line is nothing can be considered perfect."
McAtee serves as the principal of his consulting company, McAtee Ventures, LLC, and was a former director of Additive Manufacturing Technology for Cuyahoga Community College (Tri-C). He has spent over 25 years in engineering and senior leadership positions for Swagelok Company, an international manufacturing organization based in Cleveland. He is an alum of Parkersburg High School who attended Parkersburg Community College (now WVUP) before moving to Cleveland in 1973. He graduated from Tri-C in 1975, Kent State University with an Industrial Engineering BA in 1977, Malone College with a BA in 1997, and Cleveland State University with an Executive MBA in 2000.
WVU Parkersburg Interim President Dr. Torie Jackson also encouraged the graduating class, reminding them to believe in their talents and that they have a support system beyond their family and friends.
"My advice is very simple: think of new and innovative ways to do things and agree to get out of your comfort zone, and push yourself to accomplish those dreams, knowing you always have a support system in your alma mater," said Jackson. "Today you show perseverance, and we celebrate your success with you."
One hundred thirty graduates crossed the stage, with a total of 291 students earning certificate, associate, and bachelor's degrees, pending final grades. The college also presented recognition awards and honorary degrees to exceptional members of the campus and surrounding community, including:
Honorary degree recipients: Robert "Todd" Fox, venture leader, and ethics champion at Chemours; Jeff Matheny, former Board of Governors chair; and John Denbigh, former Board of Governors chair.
Alumni of the Year: Amy West, Program Director, received the award posthumously for her work on the surgical technician program at WVU Parkersburg, and her role as a recruiter and teacher.
Also, during the commencement, WVU Parkersburg recognized Holly Dexter, assistant professor of business, as the Bernard P. McDonough Outstanding Faculty Member of the Year. She is leading the reaffirmation of accreditation of the business programs through the Accreditation Council for Business Schools and Programs accreditation body.
To watch the Spring 2023 commencement ceremony, visit https://www.youtube.com/watch?v=BAtLHcNuLFU.