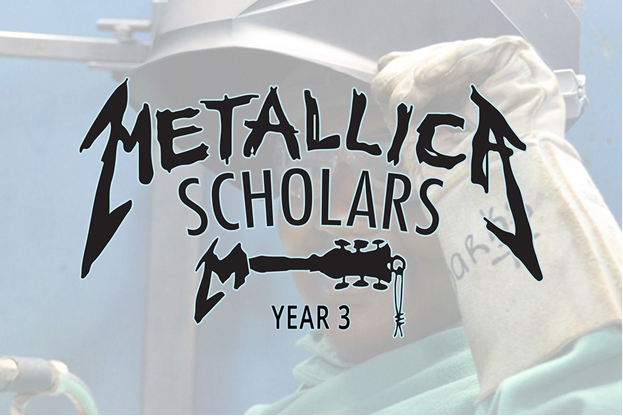 Parkersburg, W.Va. (July 22, 2021) – WVU Parkersburg was selected from a competitive field of community colleges across the country to receive $100,000 to transform the future of students in the community.
Funded by Metallica's All Within My Hands (AWMH) and led by the American Association of Community Colleges (AACC), the Metallica Scholars Initiative was designed to directly support students while elevating the importance of career and technical education. Metallica continues to use its global platform to speak out on the dignity of professional trades and community colleges that prepare students.
The Metallica Scholars Initiative is in its third year and has improved the earning potential for students who become Metallica Scholars. WVU Parkersburg will focus its efforts on students earning an Associate of Applied Science in Computer Information Technology by offering tuition and textbook assistance and covering costs for students to take up to four industry-recognized certification exams. The college's goal is to elevate students' credentialed skill sets by meeting industry standards, and raising the level of academic programs offered.
"Selection for the Metallica Scholars Initiative is further proof that WVU Parkersburg is among the top tier of higher education institutions, not just locally and in West Virginia, but nationally as well," said WVU Parkersburg President Dr. Chris Gilmer. "Only nine colleges were selected this year from an amazing field of applicants nationwide, and we thank this iconic band, its foundation and our good friends at the AACC for their confidence in us."
He continued, "I have always said that students in rural areas deserve the same advantages as students who might come from more economic privilege, and, given the resources, our students can compete on an equal basis with anyone. These funds and the national prominence which comes with this award will help WVU Parkersburg to continue to lift our students and the communities we serve to even greater heights of educational and career attainment. In this moment, we are indeed West Virginia and WVUP Proud."
"We are proud to work with Metallica to advance the career and technical education provided by the nation's community colleges," said Walter G. Bumphus, AACC's president and CEO. "Colleges across the country provide pathways to well-paying jobs through programs, services and training that lead to in-demand skills, certificates and degrees for students. These programs are responsive to the needs of local businesses and provide a pipeline of qualified workers to local industry. It's a win-win for our students and the local economy. For Metallica to continue to invest in these students and communities is a testament to the power of the workforce education community colleges provide and we are proud to do this work with them."
James Hetfield, Metallica's vocalist/guitarist and co-founder, said, "As a touring entity, we are in direct involvement with multiple essential career choices along our path. From electrical, professional driving, culinary, mechanical maintenance, public safety, logistical organizers. And that just scratches the surface. Those, along with a multitude of other technical careers, make our touring and our performances possible. We are passionate and grateful to these trades and tradespeople."
The MSI recipients to date are:
– Northwest-Shoals Community College, Muscle Shoals, Alabama
– Pima County Community College, Tucson, Arizona
– Hartnell College, Salinas, California
– Victor Valley College, Victorville, California
– Polk State College, Winter Haven, Florida
– Valencia College, Orlando, Florida
– North Idaho College, Coeur d'Alene, Idaho
– Clinton Community College, Clinton, Iowa
– College of Lake County, Grayslake, Illinois
– Wichita State University Campus of Applied Sciences and Technology, Wichita, Kansas
– Elizabethtown Community and Technical College, Elizabethtown, Kentucky
– Community College of Baltimore County, Baltimore, Maryland
– Grand Rapids Community College, Grand Rapids, Michigan
– Central Community College, Grand Island, Nebraska
– Westchester Community College, Valhalla, New York
– Central Piedmont Community College, Charlotte, North Carolina
– Clackamas Community College, Oregon City, Oregon
– Columbia Gorge Community College, The Dalles, Oregon
– Lone Star College, The Woodlands, Texas
– Northern Virginia Community College, Annandale, Virginia
– Spokane Community College, Spokane, Washington
– Gateway Technical College, Kenosha, Wisconsin
– West Virginia University Parkersburg, Parkersburg, West Virginia