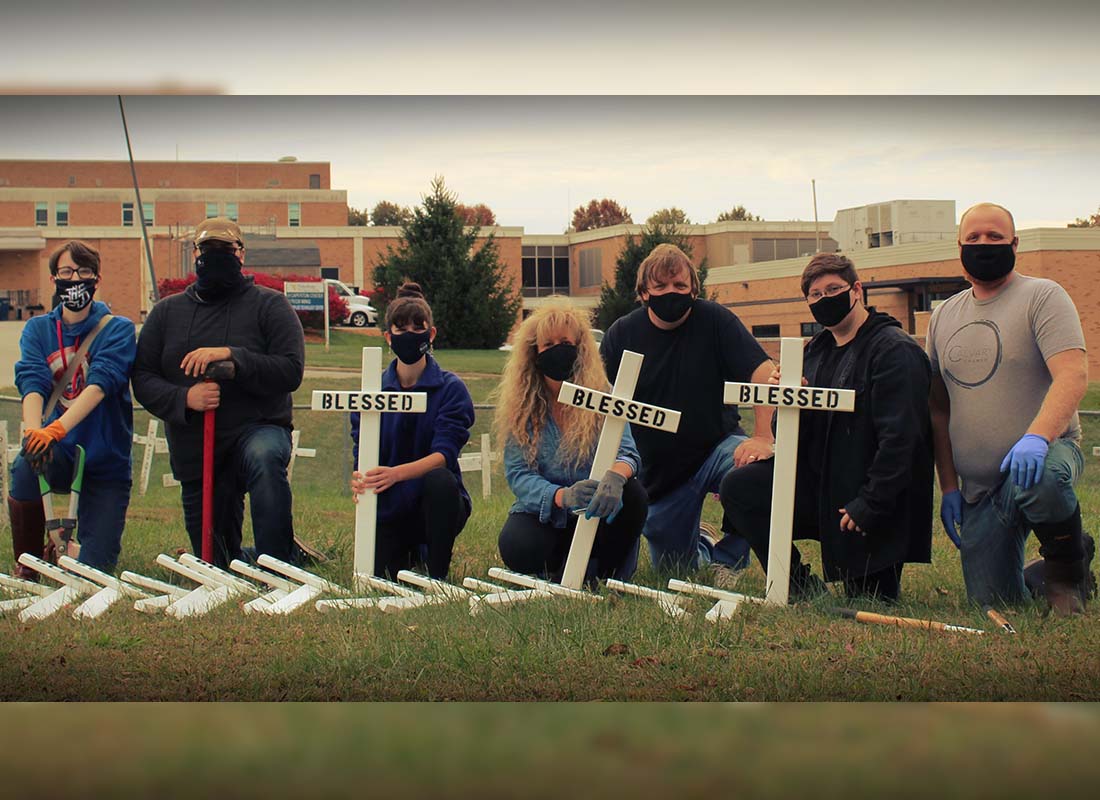 Parkersburg, W.Va. (Oct. 18, 2021) – West Virginia University at Parkersburg's Art Club and their friends gathered on Saturday, Oct. 9, to honor those buried at the campus' Poor Farm Cemetery.
"A poorhouse could serve as a hospital, nursing home, orphanage, halfway home, or even temporary prison. They were designed to aid widows who lost their husbands, children who lost their parents, injured soldiers and those affected by poverty or illness," said Dr. Lauri Reidmiller, associate professor and advisor of the Art Club.
Poor farms were common in the 19th and early 20th centuries. Farms declined after the Social Security Act took effect in 1935, and, by 1950, poor farms had almost completely disappeared.
"Residents were expected to work the fields, tend the livestock, clean, cook and help maintain the property to the extent that their health or physical abilities would allow. In return, they were given food, clothing, shelter and medical care," Reidmiller said.
The Poor Farm Cemetery honors over 1,000 residents, including veterans, ex-salves, infants and other residents from the Wood County Poorhouse.
"Learning about the poorhouse and the cemetery allows us to deepen our understanding and appreciation of those who came before us. Every grave marker holds valuable pieces of information about a community," Reidmiller said.
This is the second Poor Farm Cemetery event. Volunteers at the cleanup fixed broken crosses, trimmed bushes and trees, uncovered and cleaned tombstones and straightened cross grave markers.
"The chance to take part in the project gives my students an interesting peek into our local history. Most students who attend WVU Parkersburg are not aware of the significance of the graveyard," Reidmiller said. "Learning about historical events is not so abstract when they are tied to a specific person or family from our own community."
Another Poor Farm Cemetery cleanup will take place in the Spring. Anyone interested in volunteering should contact Dr. Lauri Reidmiller at lreidmil@wvup.edu.