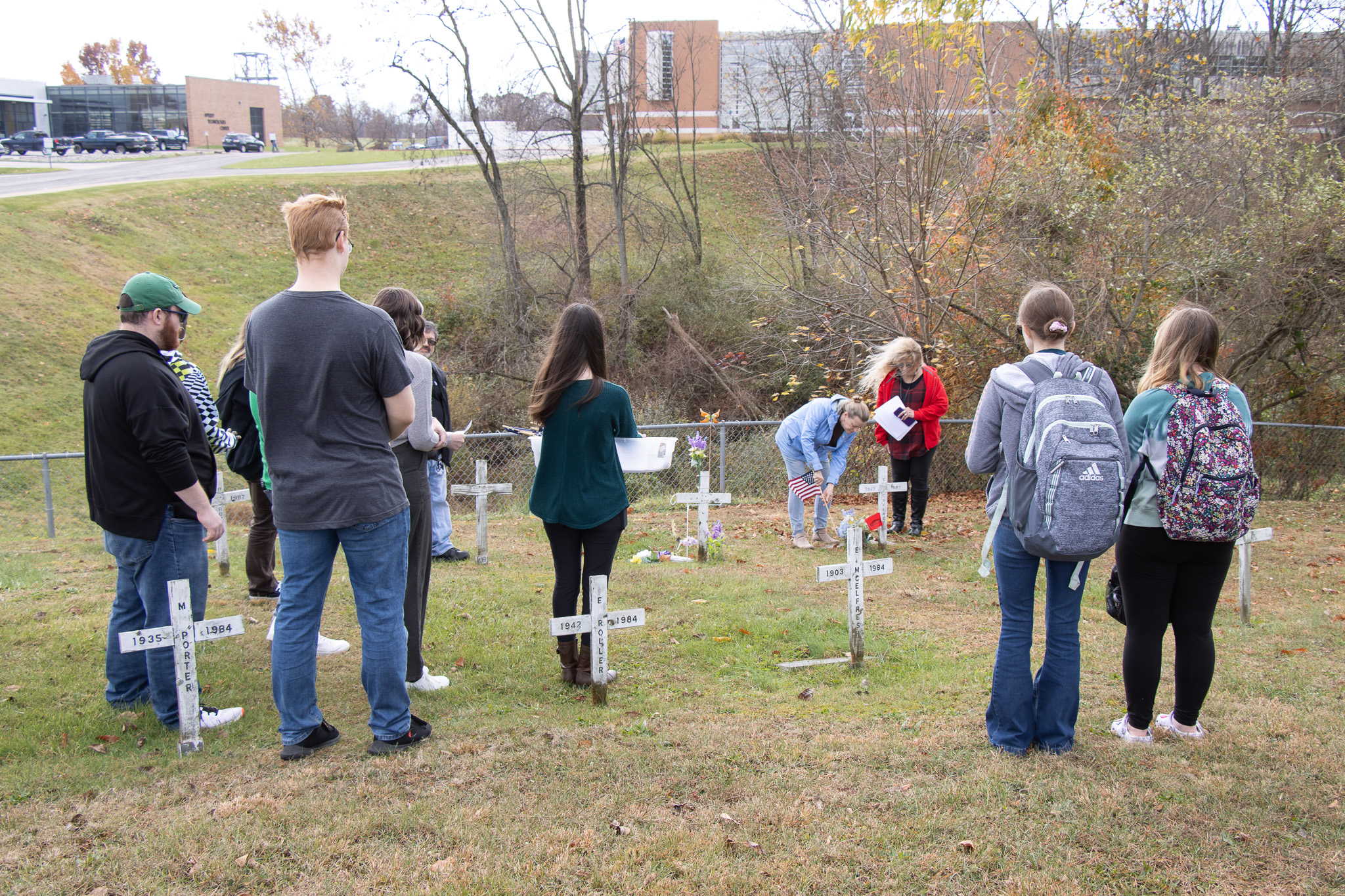 WVU Parkersburg Art Club and Veterans Corp honored Veterans Day
Parkersburg, W.Va. (Nov. 10, 2023) – Volunteers from the WVU Parkersburg Art Club and the campus Veterans Corps hosted a ceremony at the Wood County Poorhouse Cemetery to honor Veterans Day and the veterans buried at the cemetery on Thursday, Nov. 9.
"Veterans Day is a U.S. federal holiday that is dedicated to honoring and remembering American veterans of all wars, whether they're currently serving or not. This day provides us with the opportunity to show our gratitude for all the sacrifices that they have made and still make to ensure safety and freedom," said Dr. Lauri Reidmiller, Art Club Advisor, in her opening speech at the ceremony.
The Poorhouse Cemetery inters veterans from World War I, World War II, the Korean War and even the American Revolutionary War. Some tombstones have U.S. Army, Navy and Marine Corps seals and emblems on them but do not indicate what wars the veterans served in.
"Honoring these veterans is the least we can do. They gave us so much; it is only proper that we remember their sacrifices," said Darren Shearlock, WVUP Veterans Advocate. "As a society, if we fail to honor those that have sacrificed for us, we may find ourselves without people willing to do so if we are in need in the future."
Attendees of the ceremony walked to each known veteran grave and placed American flags on them. More veterans may be buried in the cemetery, but there are no indicators on their tombstones.
"Learning about the veterans buried at the Wood County Poorhouse Cemetery allows us to deepen our understanding and appreciation of those who fought for our freedom," said Dr. Reidmiller.