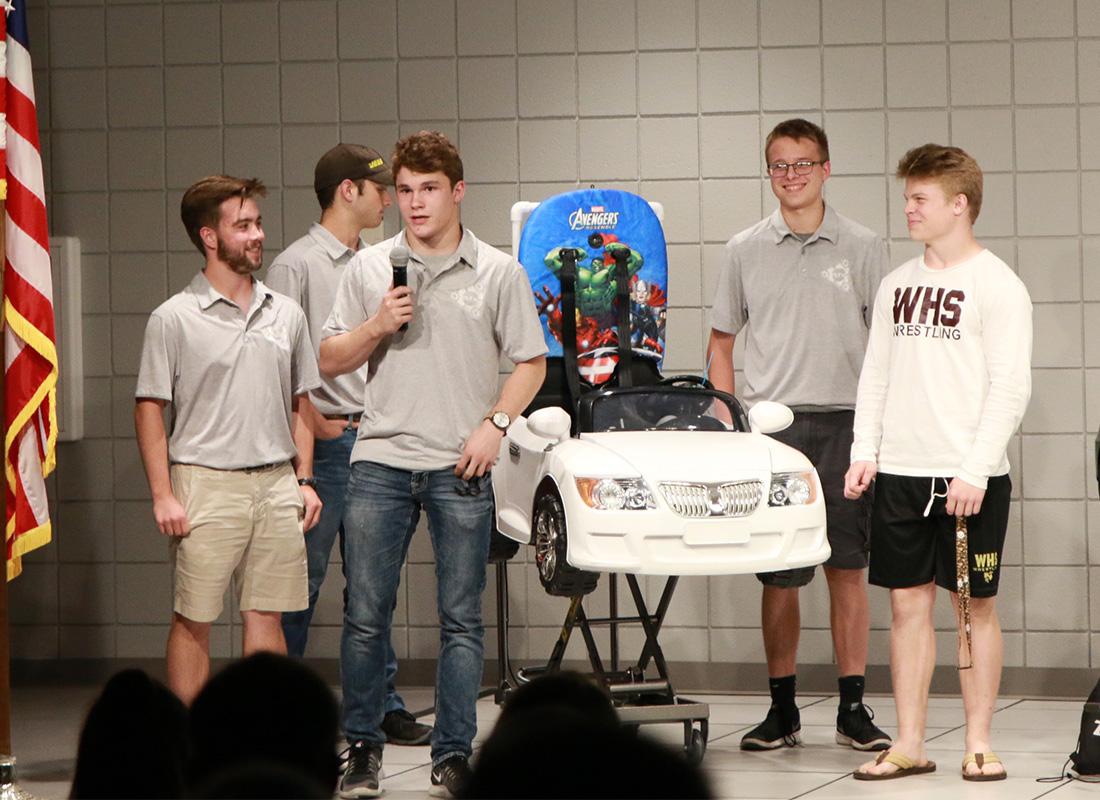 May 21, 2019 – Working through the Go Baby Go project, West Virginia University at Parkersburg and Wood County Technical/Caperton Center students remodeled four battery-powered kid-sized cars for children who experience limited mobility. The students presented the cars to families and one area school on Monday, May 20, during a ceremony at the Caperton Center for Applied Technology.
Founded in 2012, Go Baby Go is a national outreach program that provides children with disabilities the opportunity for movement, mobility and socialization through modified ride-on cars. This is the third year Wood County Technical/Caperton Center students participated in the project. Combined, nine families have been helped through the local outreach effort.
By partnering with local physical and occupational therapists, students were able to discuss with therapists the needs of each individual child and how to make needed and helpful customizations for each.
"One of the cars will help occupational therapists while they work with children at Martin Elementary School," said Steve Freshour, Wood County Technical/Caperton Center math instructor. "The vehicle even has LED under car lighting that matches their school colors."
This year, WVU Parkersburg students in the computer embedded systems class helped achieve the goal of creating joystick-controlled cars. Three cars are outfitted with joystick control using Arduino and Servo motors, and the fourth uses a 3D printed push-button accelerator. Proximity sensors were also installed to alert children when they are getting close to an object while driving.
"It is amazing to see our students' work become a therapy tool that will help children experience independent mobility," said Freshour. "The hardest part of being a student is the constant learning and not being able to see the end of what you're doing. With this, they see the power of education and the positive impact they can make."
Contact Steve Freshour at safreshour@k12.wv.us for more information.