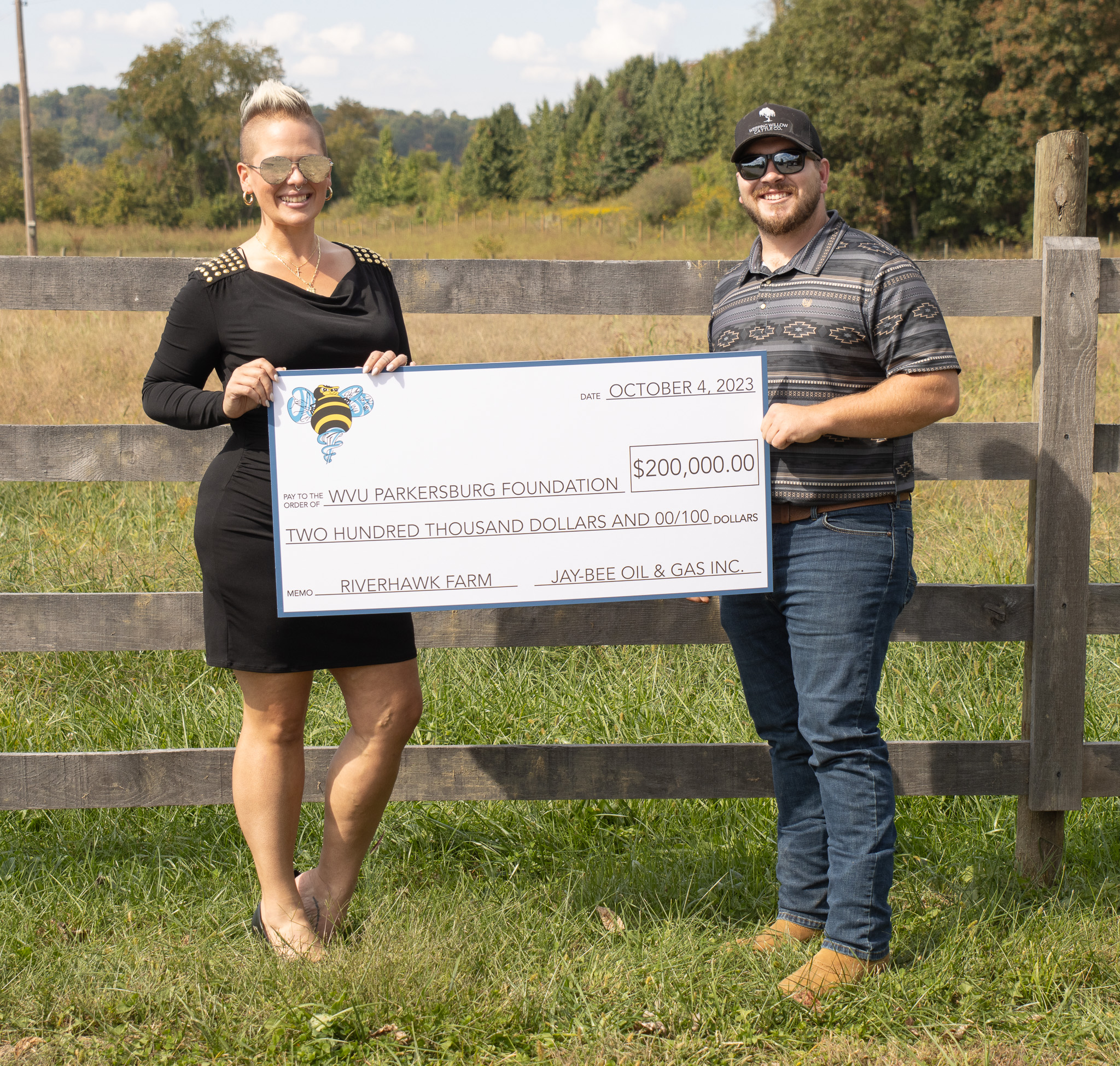 WVU at Parkersburg Foundation receives donation from Jay-Bee Oil
 Parkersburg, W.Va. (October, 9, 2023) — The WVU at Parkersburg Foundation will receive a $200,000 donation over a four-year period from Jay-Bee Oil & Gas Inc. to help support The Riverhawk Farm and grow Agriculture throughout the MOV.
"We are deeply grateful for the generous donation to support Riverhawk Farm and our agriculture program at WVU Parkersburg," said Director of WVU at Parkersburg Foundation Olivia Reeder. "This contribution will play a crucial role in nurturing the growth of Riverhawk Farm, allowing us to continue providing valuable education to our students. We are committed to maximizing the impact of this donation and ensuring that Riverhawk Farm flourishes as a hub of agriculture excellence in our community."
Jay-Bee Oil & Gas Inc., out of Ritchie County, has been operating in W.Va. since 1982. It is a family-owned business that produces oil and gas resources.
"We are always looking for opportunities to expand our mission to do good work, be a steward to our environment and be a good neighbor in the community we live and work," said Jay-Bee Oil President Deborah Broda-Morgan. "We believe that agriculture is a great place to help the residents of West Virginia find new opportunities both economic and personal."
WVUP Agriculture Director John Riggs said the funding will be put toward agricultural infrastructure development and innovation at The Riverhawk Farm.
"For example, a portion of the $200,000 will be used to develop a beekeeping and honey processing facility, the completion of this project is set for Fall 2024," said Riggs. "We will also be utilizing funding to develop livestock facilities and offer scholarship opportunities to students."
Riggs said this donation will help provide students with top tier educational opportunities through The Riverhawk Farm.
"As a higher education institution, it is imperative that we offer educational opportunities that are popular in current and future markets," said Riggs. "This donation will allow us to continue the expansion of agriculture offerings, this in turn creating more producers within the Mid-Ohio Valley. Through education, we can ensure that food security throughout West Virginia is not an issue in years to come by making locally grown healthy foods more accessible to West Virginia residents."
Riggs said he is grateful for the support Jay-Bee Oil will provide to the farm.
"I cannot thank Debbie Broda-Morgan and Jonathan Morgan for all their help and support through this process, we are extremely blessed to have found a community driven partner like Jay-Bee," said Riggs. "We hope to continue this partnership for many years!"