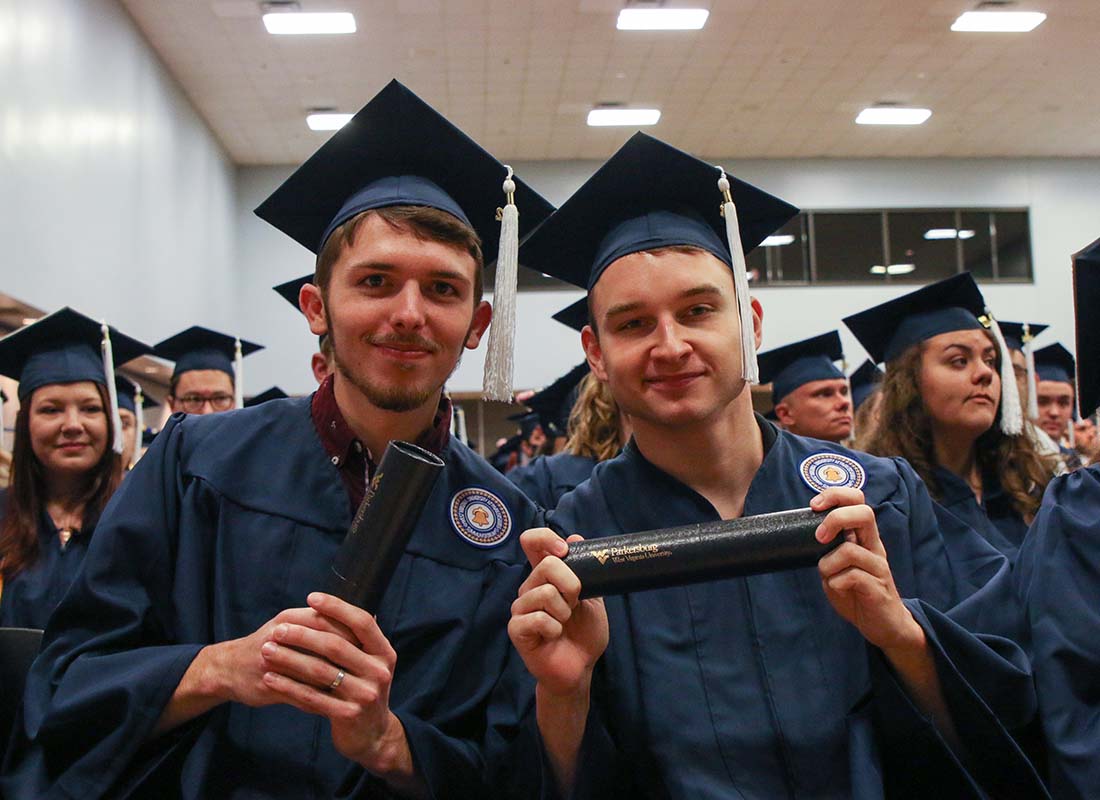 Parkersburg, W.Va. (May 7, 2022) – WVU Parkersburg held its 51st annual spring commencement ceremony on Saturday, May 7, at 2 p.m., in its College Activities Center. Dr. E. Gordon Gee, West Virginia University president, served as the keynote speaker.
Gee reminded the spring class of 2022 that while success in life is important, failure creates an opportunity for self-growth.
"The possibility of failure is not a reason to resist change. Failure is, in fact, an inevitable and even mandatory detour on the road to any worthwhile goal," Gee said. "If one is not failing, one is not learning. Your own journey…can lead a positive change if you commit to your unique purpose and make your choices serve that purpose."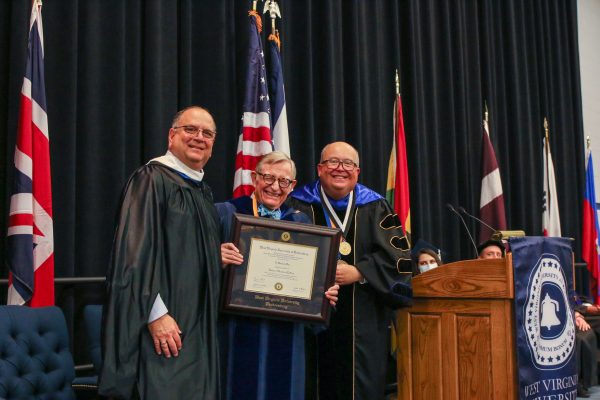 Gee has been a leader in higher education for more than 30 years. In 2009, Time magazine named him one of the top 10 university presidents in the United States. Born in Vernal, Utah, Gee graduated from the University of Utah with an honors degree in History and earned his Juris Doctor and Doctorate in Education from Columbia University.
WVU Parkersburg President Dr. Chris Gilmer also had words of encouragement for the graduating class, congratulating them on their accomplishments, which have been built on the sacrifice of family members who have come before them.
"Graduates hear this from me if you hear nothing else I say. You too are the accumulation of the dreams of generations," Gilmer said. "While you have worked hard and should be duly proud of your accomplishments, no one comes to a moment like this alone. It is a milestone no one can ever take away from you – you have earned it, but you have earned it on the shoulders of generations of people you never even met."
This is the last commencement Gilmer will preside over as WVU Parkersburg president. He will be assuming the interim campus presidency at WVU Potomac State College. Gilmer will be remembered as a student-focused leader, rebuilding strong relationships with area businesses, industries, nonprofits and schools.
Over 180 graduates crossed the stage, with a total of 350 students earning certificate, associate and bachelor's degrees, pending final grades. The college also presented recognition awards to exceptional members of the campus and surrounding community, including:
Philanthropist of the Year: The Erickson Foundation, Laurie Erickson and Kathy Eddy
The Generations Award from the National Institutes for Historically-Underserved Students: Dr. Donzell Lee and Family
The Governor of West Virginia's Lifetime Achievement Award for Volunteerism: Kiki Angelos
Alumni of the Year: Christie Willis
Business Partner of the Year: The Blennerhassett Hotel, Wayne Waldeck and Lee Rector
Innovator of the Year: The Ross Foundation, Tres and Melissa Ross
Nonprofit Partner of the Year: The United Way, Stacy DeCicco and Justin Raber
Also, during commencement, WVU Parkersburg recognized Christie Calvert, Child Development program coordinator, as the Bernard P. McDonough Outstanding Faculty Member of the Year. She has doubled program enrollment and received multiple rankings from Intelligent.com as having one of the nation's best online Child Development degree programs.
To watch the Spring 2022 commencement ceremony, visit youtube.com/wvuparkersburg.