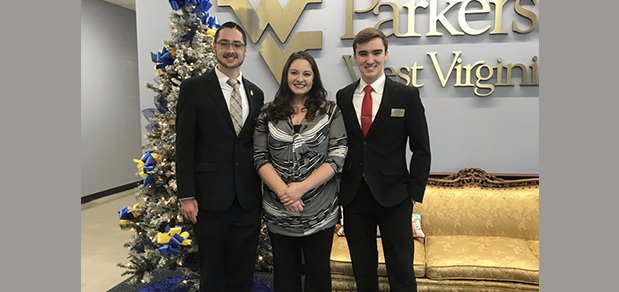 Three students from West Virginia University at Parkersburg can now add real-world experience in financial trading to their resumes after recently participating in the TD Ameritrade thinkorswim® Challenge. The national competition gives undergraduate students a hands-on approach to managing money in the markets, without any risk involved.
During the competition, student teams are given $500,000 in virtual dollars to trade stocks, options and exchange-traded funds (ETFs) over a four-week period, as well as unlimited access to an array of valuable educational resources. Participating teams compete for many rewarding prizes, including a $30,000 donation to the winning team's college or university.
WVU Parkersburg students Justin Bosley, Shianne Winters and Austin Grimm – who comprised the first team to represent the state of West Virginia in the national competition – placed 299 out of 515 schools. The trio outperformed teams from Harvard University, Princeton University, Penn State University, Queens College, Ohio State University, UCLA and other notable post-secondary educational institutions across the country.
"The competition allowed us to demonstrate what we have learned in class in real time against some of the nation's most prestigious colleges and universities," said WVU Parkersburg student Justin Bosley. "Speaking on behalf of our team, we couldn't be more honored to put West Virginia on the map. Our results speak volumes to the quality of education at WVU Parkersburg and its business programs."