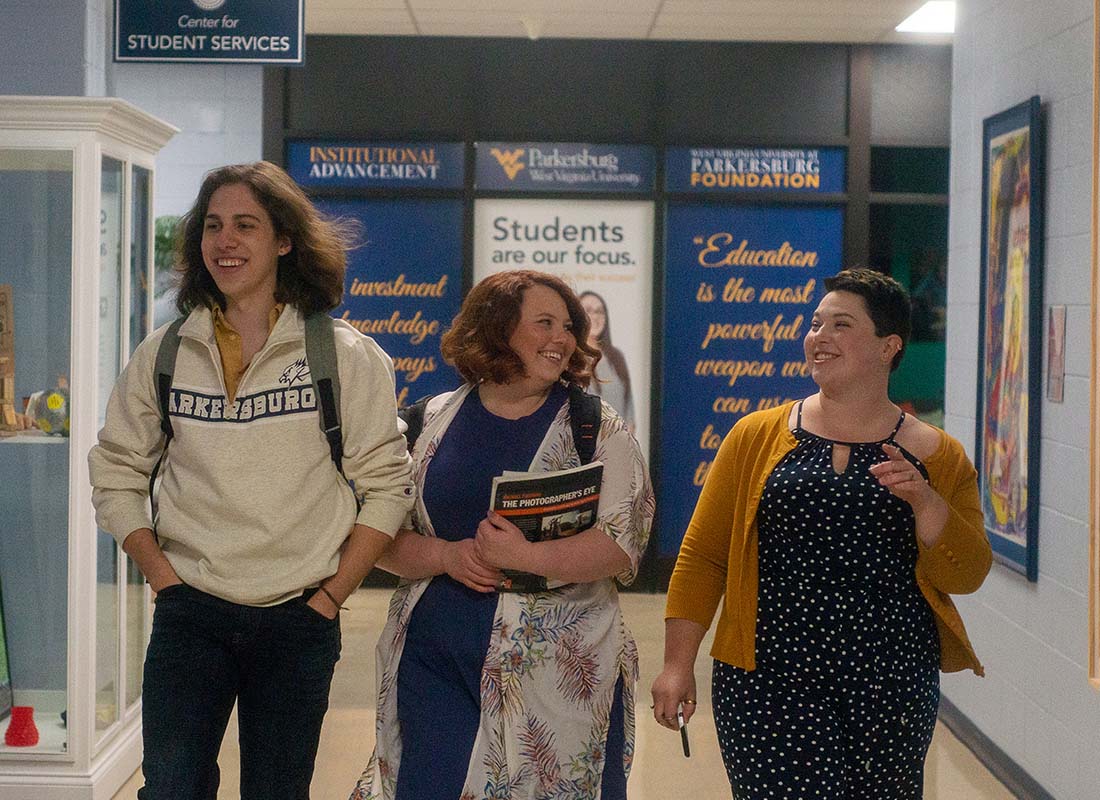 Parkersburg, W.Va. (June 21, 2022) – West Virginia University at Parkersburg is pleased to announce its President's and Dean's scholars for the Spring 2022 semester.
President's Scholars
Students on the President's List maintained a 4.0 grade point average while earning 12 or more hours of college credit. The scholars include:
CABELL COUNTY – Huntington: Donnell Reed;
CALHOUN COUNTY – Creston: Hannah Stephens;
Spencer: Caroline Northedge;
CLAY COUNTY – Clay: Timothy Crum;
DODDRIDGE COUNTY – West Union: Jared Harris;
GRANT COUNTY – Petersburg: Cayleigh Ketterman;
JACKSON COUNTY – Cottageville: Makayla Edwards; Jonathan Fields; Tyler Hill; Adam Hoschar;
Evans: Maria Harrah; Kiley Hersman;
Given: Brooke Shouldis;
Kenna: Jahlea Bumpus; Chase Casto; Madison Coon;
Millwood: Molly McCutcheon;
Ravenswood: Rebecca Burdette; Julie Coberly; Raygan Hickman; Emma Jacobs; Jordan Knotts; Fiona Lane; Samantha Pittman; Jacob Watson; Kinsey Wolfe;
Ripley: McKenzie Barickman; Hunter Evans; Joely Good; Amanda Lee; Jasmine McClure; Micah Ranson; Zaya Settle; McKenzie Stalnaker; Johnathan Zuniga;
Sandyville: Alexandra Miller; George Mowery;
KANAWHA COUNTY – Clendenin: Tabitha Adkins;
LINCOLN COUNTY – West Hamlin: Ashley Bowman;
MARION COUNTY – Fairmont: Richard Cole; Tammy Cole;
MASON COUNTY – Leon: Valissa Bailes;
Letart: Emma Gibbs; Noah Litchfield;
New Haven: Tyler Bumgarner; Trayner Howard; Joshua Petry;
Point Pleasant: Benjamin Halley; Lathan Harrison;
MONROE COUNTY – Ballard: Andrew Bonnell;
PLEASANTS COUNTY – Belmont: Kamryn Armstrong; Logan White;
St. Marys: Allison Amos; Jenna Barnhart; Sarah Bowie; Mara Eisenbarth; Mariah Evans; Charity Hannah; Caraline Lancaster; Katie Lemon; Natalie Malone; Sydney Maston; Josey Moore;
RITCHIE COUNTY – Cairo: Valerie Bircher; Alex Hendrickson;
Ellenboro: Blaine Bowie;
Harrisville: Larissa McDonald; Daniel McGinnis;
Pennsboro: Creed Knight;
ROANE COUNTY – Reedy: Kelly Hardbarger;
Spencer: Kolleen Bradley; Kaley Sisk; Zachary Whitehouse;
TYLER COUNTY – Friendly: Erica Davis; Thomas Hill;
Middlebourne: Breauna Anderson; Zoe Lemasters;
Sistersville: Millicent Kehrer;
West Union: Amanda Gist;
WAYNE COUNTY – Huntington: Norma Harbolt;
WETZEL COUNTY – Paden City: Kyra Dennis;
WIRT COUNTY – Elizabeth: Mikayla Bailey; Nicholas Bain; Lexis Hill; Autumn McKenna; Kelsey Moore; Hailey Sams; Katrina Smarr;
LeRoy: Morgan Cale;
Palestine: Peyton Richards; Adeline Sims; Brooklyn Smith;
WOOD COUNTY – Belleville: Jordan Flinn; Morgan Habeb; Bradley McPeek, Zoey Smith;
Davisville: Brandon Dix; Amy Hutton;
Mineral Wells: Ashley Beall; Tyler Byars; Eli Francis; Robert Jarvis; Jayde Metz;
Parkersburg: Daxa Babariya; Gideon Barton; Jaya Bell; Devon Bertus; Tabitha Bingle; Tara Boston; Nicole Buck; Makayla Burns; Ryan Cobb; Alexis Dailey; Olivia Dailey; Jonathan Defibaugh; Megan Dennis; Matthew Dodrill; Lloyd Frazier; Amelia Gesell; Emily Givens;  Kelsey Golden; Mikaela Grant; Rachael Green; Amelia Hartzog; Payton Harvey; Abigail Homan; Jacelyn Hyde; Sean Lilly; James Malson; Taylor Marks; Tyler Martin; Hailee Merritt; Toria Moore; Aliza Nehls; Coleen Nicoles; Gregory Oxley; Lacy Parsons; Jessica Perkins; Abram Poling; Savannah Ruble; Madison Sayre; Megan Seevers; Alexandra Tennant; Reganne Thomas; Remy Toncray; Nhi Tran; Ashleigh Utt; Yuan Uy; Emily Valentine; James Voutour; Olivia Wilson;
Rockport: Haley Parsons;
Vienna: Maxwell Crum; Emily Davis; Randa Eddy; Devon Fancher; Charles Helmick III; Rachel Somerville; Brittany Underwood;
Walker: Devin Cooper;
Washington: Heather Lawson; Gracie Lowers; Travis Spears; Julie Wolfe;
Waverly: Dominic Cartmel; Whitney Kiger;
Williamstown: Emma Berman; Elizabeth Collie; Aubrey Erwin; Tiffany Evans; David Underwood;
OHIO – Belpre: Kylee Bethel;
Beverly: Jadelynne Baker;
Coolville: Ashley Ward;
Cutler: Christy Barton; Alexander Eckhart; Bethany Steele;
Hamden: Yvonne Coleman;
Malta: Tori Gormley;
New Matamoras: Nicole Haught;
Racine: Domenic Nudi;
PENNSYLVANIA – Mather: Melissa Rychtarsky;
Dean's Scholars
Students named to the Dean's List maintained a 3.5 grade point average while earning six or more hours of college credit. The scholars include:
BARBOUR COUNTY – Philippi: Megan Rumney;
CABELL COUNTY – Culloden: Breanna Akers; Aime Nuckolls;
Huntington: Andrew Gillispie; Valerie Sanders;
CALHOUN COUNTY – Grantsville: Alexander Petrovsky;
CLAY COUNTY – Maysel: Heather Dawson;
DODDRIDGE COUNTY – New Milton: Emily Gola; Abby Kelley;
Pennsboro: Alexia Whitehair;
Salem: Noah Burnside; Makenna Curran; Faith Galagar; Jack Hutson; Karlee Jozwick; Hailey Keith; Abby McDonough; Lacy Rummler; Nora Sias;
Troy: Sidney Hinzman;
West Union: Gabriel Bates; Adam Burnside; Taylor Davis; Hallie Shepherd; Jaydah Smith; Anna Trent; Mackenzie Underwood; Alyssa Weekley; Caleb Wekseth;
FAYETTE COUNTY – Ansted: Victoria Boggs;
HAMPSHIRE COUNTY – Romney: Madison Wilkins;
HARDY COUNTY – Mathias: Amanda Kern;
Moorefield: Ashley Kesner; Jordan Mongold;
Wardensville: Hannah Merritt; Morgin Miller;
HARRISON COUNTY – Bristol: Soffi Bee;
Salem: Maggie Sleeth;
JACKSON COUNTY – Cottageville: Ada Freshour; Cortney Gandee; Andrew McDowell;
Evans: Haley Carson; Caden Harpold; Benjamin Smith; Tucker Williams;
Given: Megan Barnett;
Kenna: Kayla Jones; Taylor Myers; Megan Pauley; Aubrey Stephens; Mason Stephens; Joseph Wortham;
LeRoy: Elijah Price;
Millwood: Jayme Shaver;
Ravenswood: Andrew Anglin; Chloe Blevins; Damien Caldwell; Samantha Casto; Madison Dye; Samantha Eades; Tiffany Fender; Joel Fisher; Rachel Fisher; Jacob Graham; Taylor Heath; Isabella Hughes; Brett Jacobs; Natasha Lemley; Richard Mahan; Sabrina Mills; Logan Nelson; Lacee Postlethwait; Autumn Pursley; Tate Riley; Megan Scarberry; Deanna Schindler; Myna Spencer; Emma Weekley; Kylee Williams;
Ripley: Zack Benson; Jacob Casto; Victoria Cochran; James Coon; Seth Gainey; Hunter Harper; Gabriel Haynes; Ashlea Huffman; Miranda Johnson; Sara Jones; Megan Kay; Anna Kimble; James Manley; Elaina Segsworth; Jaylyn Sheppard; Katelin Sinclair; Ayda Tuttle;
Sandyville: Natasha Canterbury; Kasara DiSciullo; Patrick Francis; Julia Holbert; Michael Lanham; David Smith;
JEFFERSON COUNTY – Ranson: Miranda Day;
KANAWHA COUNTY – Charleston: Jody Farmer; Rebecca Fouts;
Clendenin: Jennifer Mitchell;
Elkview: Morgan Carpenter; Ashley Eplin;
St. Albans: Lindsey Brewer; Molly Caldwell; Joseph Casey; Lindsay Holbert;
South Charleston: April McCune;
LOGAN COUNTY – Chapmanville: Shawn Wolford;
MARSHALL COUNTY – Moundsville: Mitchel Herbold;
MASON COUNTY – Leon: Jason Bechtle; Christina Boggs;
Letart: Sophie Beattie; Brittni Kaylor; Adrianna Stewart;
Mason: Payton McFarland;
New Haven: Bryton Grate;
Point Pleasant: Grace Haddox; Hannah Halley; Carla Stover; James Walker; Catherine Wasonga;
West Columbia: Chesnie Brinker;
MONONGALIA COUNTY – Morgantown: Tiaa Ferrebee;
OHIO COUNTY – Wheeling: Eva Reid;
PLEASANTS COUNTY – Belmont: Kyle Jones; Cara Masters; Michelle Neff; Ian Niemczyk;
Friendly: Hannah Dearth;
St. Marys: Brianna Barker; Edgar Barker; Aliyah Bennett; Grant Barnhart; Erika Becker; Alexis Carder; Megan Cronin; Ethan Davis; Nathanael Decker; Madison Eaton; Haley Farson; Jonathan Goodfellow; Paul Gordon; Emily Hadley; Brayden Hall; Anondae Hesson; Macy Hilvers; Garrytt Horner; Dillon Johnson; Brandon Lawhon; Jessica Lipscomb; Adriana Matson; Emily Meeks; Teddi Northrop; Emma Powell; James Powell; Jeremy Rhodes; Tacia Rodriguez; Jadon Satterfield; Justin Scadden; Madison Scott; Matthew VanFossen; Ethan Weikart; Brayden Whited;
Waverly: Patricia Miller;
PRESTON COUNTY – Bruceton Mills: Ashlynn Phillips;
PUTNAM COUNTY – Eleanor: Phaedra Higgs;
Poca: Tammy Naylor;
Red House: Amanda Blackshire;
Scott Depot: Melissa Melton;
RALEIGH COUNTY – Beaver: Kailea Sawyers;
White Oak: Kimberly Keller;
RITCHIE COUNTY – Cairo: Jeremy Darnold; Erik Miehrig; Angela Stewart;
Ellenboro: Zoe Butcher; Brie Butta; Olivia Cress; Madison Hall; Shannon Reilly;
Harrisville: William Bell; Lily Butcher; Charles Copeland III; Gavin Easton; Ethan Haught; Chaslyn Jones; Alexander King; Darren Lanham; Haley Martin; Taylor Osborne; Quentin Owens; Kayden Procacina; Jillian Schimmel; Mary Spencer;
Pennsboro: Andrew Freeland; Alexander Gilliland; Chandos Hamilton; Presley Johnson; Tanner Langmeyer; Ian Martin; Vanessa Patton; Marin Rader; Hannah Ray; Emma Stahlman; Karissa Weekley; Kiarra Weekley;
Pullman: Leewood Molessa;
Smithville: Katie Rollins;
ROANE COUNTY – Gandeeville: Zane Tanner;
Looneyville: Coleen Mitchell; Ellie Sayre; Kaydence Steele;
Reedy: Erica Ellison; Alyvia Freeland; Madison Marshall; Holly Terrell;
Spencer: Macy Burdette; Emily Chandler; Kaitlyn Clarkson; Mikalah Clarkson; Shayla Claypool; Kyan Douglass; Madison Rhodes; Emily Stotts; Zachary Taylor; Marleigh Unger; Savannah Williams;
Walton: Jamie Huffman; Emma Looney;
TUCKER COUNTY – Davis: Sara Luzier;
TYLER COUNTY – Alma: Larissa Ahouse; Lea Ahouse; Alyssa Kimball; Havannah Lemasters; Shelby Thomas;
Friendly: Kashia Brown; Madeline Cecil; Jordan Ebert; Garrett Freeland;
Middlebourne: Kendra Beaver; Leah Cathers; Emily Ebert; Walker Hoover; Abigail Rose; Jacklyn Seagrave; Ryley Vandyne; Mallory Westbrook;
Paden City: Justin Barker; Alec Chaplin; Jamie Daugherty; Carson Gorby; Hannah Shreves;
Pennsboro: Madison Lovejoy; Autumn Shepherd;
Sistersville: Garrett Ammons; Charles Brown; Audrey Dennis; Jocelyn Foltz; Jesse Griffith; Emily Gorby; Caitlyn Hayes; Jayden Helmick; Grace Howell; Trenton Huffman; Abigail          Ice; Avery Kemp; Abigail Kimble; Shayli Kocher; Leah Loudin; Maeson Maxwell; Mason Nichols; Caleigh Phillips; April Ramsey; Kaci Shanabarger; Madison White; David Wickham;
WAYNE COUNTY – Crum: Kassandra Spaulding;
WETZEL COUNTY – New Martinsville: Khloe Adkins; Telah King;
Paden City: Tanley McEldowney; Kylee Yeater;
WIRT COUNTY – Elizabeth: Taylor Anderson; Madelynn Cogar; Meredith Cottrell; Kylie Cox; Chad Crouser; Jonathan Daggett; Madison Devaughn; Cherokee Edwards; Jody Hill; Jason Hopkins; Shelby Knicely; Mika Parsons; Kaeleigh Parsons; Ethan Phillips; Madison Richards; Brooklyn Rood; Sierra Runner; Cheyann Seevers; Nicole Wood; Noah Yoak; Emily Young;
LeRoy: Moriah Cale;
Palestine: Jeremy Davis; Riley Nutter; Emmeline Pethtel; James Riggs; Malane Smith; Dakota White; Emma Wyer;
WOOD COUNTY – Belleville: Matalenne Foggin; Jenna Mathess; Megan Smith;
Davisville: Victoria Delancey; Eliza Lawrentz;
Mineral Wells: Breanna Beverage; Skyler Boice; Allison Boyd; Aaron Crites; Zachary Cumpston; Dylan Daley; Michael Dugan; Abigail Lathem; Lora Litman; Mallory Marks; Pamela Morehead; Colton Parsons; Kolton Parsons; Logan Penn; Trinity Phillips; Kimberly Thomas; Elizabeth Weaver; Chelsey Yates;
Parkersburg: Abby Anderson; Franklin Angelos; Alyssa Arthur; Austin Atkinson; Sierra Backus; Katelyn Baker; Rikki Barre; Abigail Barton; Casie Bevins; Taylor Black; Brittany Blevins; Justin Blevins; Sydney Bohn; Mary Boley; Julian Brady; Kristen Brandjes; Connor Branham; Joseph Bredon-McFarland III; April Brooks; William Burge; Maxwell Carnes; Sean Carpenter; Carson Chambers; Emily Cogar; Trinity Cogar; Sydney Coler; Garrett Colvin; Katie Copeland; Alanna Cottrill; Hunter Coull; Evan Cowan; Lanae Dailey; Allison Davis; Christian Deem; Kira Dowler; Haley Drake; Halley Durkin; Brandy Edgar; Olivia Edinger; Kandi Ellison; Bradley Emerick; Rory Essenmacher; Allison Felker; Gage Fiore; Katerina Floyd; Danielle Folwell; Stacey Fordyce; Ashley Fornash; Abigail Francisco; Tobin Francisco; Laura Gant; Jaden  Garner; Olivia Gibbs; Brandon Gill; Rhylea Graham; Serena Graham; Courtney Greathouse; Kaylee Greer; Kensley Hager; Cameron Hanshaw; Alexandra Hamric; Brayden Hatfield; Garrett Hatfield; Riley Hilling; Carson Huck; Taylor Isaly; Imori Johnson; Kayleigh Johnson; Kristofer Jones; Rylee Jones; Sherri Jones; Perrin King; Savannah Knowlton; Joshua Kopec; Amanda Lan; Johnathon Laxton; Mark Lee; Blake Lewis; Alexander Life; Michele Looney; Lee Lynch; Sophia Mahoney; Brittany Marrone; Brittany Martin; Elizabeth Martin; Kimberly Matheny; Wesly McCune; Travis McDonald; Lauren McDonnell; Alexus McEldowney; Kasey McKinney; Randy Merced; Colin Minear; Lauren Modesitt; Clay Morgan; Melissa Morris; Jessica Morrison; Madison Newbanks; Sydney Nuckolls; Logan Nutter; Kaylyn Parsons; Rachael Pierce; Lyndsie Pinkston; Vincent Post IV; Ryann Province; Angelina Randolph; Carl Ray; Noah Ray; Isabella Reidmiller; Carrie Rhodes; Nevada Richards; Laura Richardson; Ryan Richardson; Jasmine Roberts; Kelly Rockhold; Amber Saltz; Jerenie Sands; Jadon Sandy; Harley Saxton; Parker Schartiger; Abrielle Schmitt; Andrea Sears; Timothy Sharp; Alexander Sidwell; Zach Silvia; Kaci Sink; Makayla Sirk; Christopher Smith; Elliott Smith; Angel Spangler; Amariah Sprouse; Serenity Sprouse; Audrey Sprout; Katrina Steelsmith; Kimberly Sturm; Michelle Sturm; Tiana Tauber; Paul Teltscher; Audrianna VanCamp; Jena Vincent; William Watson; Isaac Weekley; Lily Wharton; James White; Guinevere Wigal; Gracie Wilkinson; Hollie Williamson; Melissa Wilson; Phillip Wilson; Hannah Wingrove; Gavin Wise; Markie Wolfe; Andrew Woofter; Nelson Woofter;
Rockport: Kaleb Dean; Caylen Ward;
Vienna: Yasmeen Alamin; Canyon Alkire; Abigail Anderson; Macey Anderson; Maxwell Anderson; Shelby Anderson; Aliana Bennett; Emily Bond; Savanna Channell; Katelyn Collins; Grace Curry; Austin Cutlip; James Dauphin; Kendal Domenick; Anna Earl; Lillian Floyd; Echo Full; Chelsea Haught; Emily Higginbotham; Abigail Hine; Lauren Hissem; Alyssa Hoffmann; Sheza Ikhlaq; John Justice; Dylan Khoury; Rylee Kisner; Maxwell Lauer; Anna Martin; Virginia Martin; Hayley McCale; Molly McLean; Ethan Metz; Annette Mildren; Emily Newbanks; John O'Brien III; Sofia Olson; Talia Patterson; Beyonce Pierce; Hallie Pierce; Jade Poling; Logan Rake; Jaxen Ranson; Courtney Rather; Philip Richmond; Mariah Sands; Chandler Seita; Niveah Smith; Riley Smith; Kylie Spencer; Brandon Stanley; Simon Strobl; Mindy Thompson; Audrey Ungar; Jonah Varner; Megan West; Rylee Wise; Ella Wix; Bastet Zyla;
Walker: Chad Cottrill; Allison Ezell; Abigail Farnsworth; Mya Green; Anna Haught; Ivy Hogue; Chere Jenkins; Katelyn Uppole; Haley Woollard;
Washington: Priscilla Brady; Chelsea Bunner; Drew Corley; Alayna Goff; Nathaniel Griffith; Hannah Habeb; Taylor Harrison; Amy Hays; Jackie Hunt; Kenzie Johnson; Emily Jones; Sean Marks; Michael Midkiff; Kayla Ross; Brooke Sandy; Javier Santelices; Sarah Smith; Aurora Tennant; Megan Vankirk; Rylee Waggoner; Joseph Whipkey; Ramona Wilson;
Waverly: Issac Cutright; Zoey Davis; London Flores; Sara Hall; Lacey Smith; Amber Ward; Brianna Winsett;
Williamstown: Kaci Adkins; Rickie Allen; Madelyn Anderson; Emily Bailey; Andrew Baker; Vanessa Baughan; Gavin Bosgraf; Tara Boyce; Sarah Brooker; Gage Carpenter; Boston Caruthers; Natalie Chambers; Skyler Chancellor; Alexander Cockerham; Audrey Coiner; Lydia Conner; Emily Dietz; Connor Elliott; Grace Everly; Audrey Fenton; Andrew Florence; Alison Gates; Julian Guckert; Wyatt Hall; Harbor Haught; Kamryn Haynes; Michael Hendrickson; Rainer Holl; Alexander Hurst; Georgie Inman; Alexander Irvin; Isaac Joy; Lakyn Joy; Lindsey Keller; Halley Landis; Chloe Lightfritz; Ivy Linger; Ella McMullen; Macy Morgan; Alexia Mynes; Riley Oblisk; Hope Pickens; Landon Richards; Sara Richards; Alexis Rickard; Maybree Rinard; Jaina Rinehart; Alexis Sivard; Avery Smith; Willow Somerville; Kaden Spencer; Karly Starcher; Alyssa Stump; Katelynn Tucker; Conner Walker; Gabrielle West; Logan White; Payton Woodard;
ALABAMA – Guntersville: Jennifer Shedd;
ARKANSAS – Bentonville: Sheena Ramey;
ARIZONA – Chandler: Maryann Garcia;
FLORIDA – Lake Worth: Denise Davis;
Tamarac: Sarah Quick;
West Palm Beach: Willieritta Sherman Lewis;
GEORGIA – Dawsonville: Amy Brookins;
KENTUCKY – Ashland: Cody Wood;
OHIO – Ashland: Jordan Hoffman;
Athens: Brooke Grubb; Sydnee Whaley;
Belpre: Chase Baker; Kelly Byrne; Megan Gorham; Rafael Mendez; Carla Rasmussen;
Caldwell: Shailyn Hayes;
Carroll: Wesley Yors;
Coolville: Melissa Graham;
Fleming: Jessica Knadler; Hunter Schrader; Matthew Stuckert;
Lowell: Cara McIntosh;
Lower Salem: Kelly Casto;
Marietta: Emily Buchanan; Julie Elliott; Nathan Hale; Madeline Hawkins; Kimberly Null; Anna Moening; Amanda Page; Emilie Scarbro; Jared Smith; Paige Stotts;
Ostrander: Sean Luellen;
Powell: Andrew Matson;
Racine: Ryan Parsons;
Reedsville: Melissa Cowdery;
Rutland: Shalynn Mitchell;
Tuppers Plains: Nathaniel Hensley;
Vincent: Brayden Hanes; Ethan Lang; Jessica Mosier;
OREGON – Canby: Leigh Brocki;
TENNESSEE – Antioch: Yasmin Gonzalez;
Kingsport: Robert Arnold;
Murfreesboro: Tammy Barr;
TEXAS – Lyford: Eleazar Rangel.