Education Accreditation
The Education Division at WVU Parkersburg was awarded national accreditation by the Council for the Accreditation of Educator Preparation (CAEP) in 2020. An Education Preparation Program that has accreditation ensures that teacher candidates meet rigorous standards prior to graduation. As a teacher candidate that means that an Elementary Education degree from WVU Parkersburg will give you the option of securing a teaching certificate for any state in the United States. The elementary education program is, also, nationally recognized by the Association of Childhood Education International.
CAEP 8 Annual Report
WVU Parkersburg's education preparation program is dedicated to excellence that is achieved through continual assessment and improvement grounded in a culture of evidence that informs our practice. The faculty conducts two assessment meetings each year to review data collected from numerous sources: current students, faculty, graduates, employers, cooperating teachers and supervising teachers. Certification examination scores and grade point averages also provide data for review. This review of the data informs the program concerning areas that need to be improved.
The preparation program at WVU at Parkersburg is committed to transparency. The following data demonstrates the program's dedication to excellence: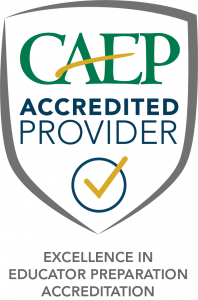 CAEP
WVU Parkersburg's teacher education program received accreditation through the Council for the Accreditation of Educator Preparation in 2020. The Self-Study Report can be found below.
Impact Measures (CAEP Standard 4)